---
The Ibbenbüren coal mine in Germany has ordered a second Cat® GH800B longwall plough system to recover its thin seam of anthracite coal, which averages only 1.04 m thick. RAG Anthrazit Ibbenbüren GmbH, the mine's owner, placed the order for a second system based on the productive performance of the first Cat GH800B system.
The mine installed the very first GH800B system in late 2013 and the system has been effectively working in heights of 0.8 – 1.2 m since then. The new system is scheduled to begin production in July on a 220 m face.
The order was received by Zeppelin Baumaschinen – the Cat dealer in Germany. In addition to delivering the system, the dealer will also provide product support services, as it has for the first system.
The new system will include the Cat GH800B automated plough system and Cat AFC PF4 armoured face conveyor, both of which are manufactured in Lünen, Germany. It will also include a shock absorber, an elastomer coupling in the plough-pulling sledge to reduce peak loads on the plough system – chain, plough connectors and drives. The effect is smoother plough operation and extended service life of components. RAG, the mining company, has retrofitted its older plough systems with shock absorbers.
As with the first G800B system, Cat automation of the complete plough longwall, as well as remote control of all functions and adjustments, enables high production, enhances safety and minimises operating cost.
At Ibbenbüren mine, all underground production operations are controlled from a central control station on the surface. In 2015, Ibbenbüren is will produce 1.63 million t of high-quality anthracite from its longwall systems working 1300 m below the surface.
Written by Jonathan Rowland.
Read the article online at: https://www.worldcoal.com/mining/24032015/cat-receives-order-for-thin-seam-longwall-plough-system-coal2103/
You might also like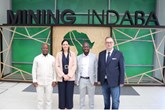 Continuing a spate of new global enrolments, the World Coal Association (WCA) has welcomed South African mining investor, Menar, to its roster of progressive coal members.