Mining - 21 August 2017
The continuing advancement of Crown Mountain is generating strong interest in Jameson Resources.
World leading operators and live demonstrations to feature at AIMEX in Sydney, Australia.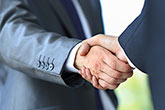 Dyno Nobel becomes the first non-mining company to receive independent certification under the National Mining Association's signature safety programme.