---
Following careful collaboration between Moolarben Coal Operations (MCO) and Liebherr-Australia Pty. Ltd., the first R 996 B engine repower module was performed successfully this spring.
In keeping with the six pillars that define Liebherr Mining, the genesis of this initiative came from a shared desire for efficiency, reliability and customer service.
Through the collaboration of Liam Whittaker, Maintenance Manager at MCO and Ben Kerr, Customer Support Manager at Liebherr-Australia's Mt Thorley branch, both parties agreed on a scope of work, commercials, labour and support and delivered the first R 996 B engine repower module on time and on budget.
Key to the success of this project was understanding the customer wants and needs, and focusing on a one downtime event, eliminating multiple events required to change out components and minimising the effects that multiple in-situ component replacements have on production.
Liebherr-Australia Mt Thorley branch and MCO worked together to minimise the impact on the environment too, as all waste was strictly controlled. The chance of error and cost was greatly reduced compared to multiple in-situ repairs and component replacements.
In discussing the benefits for Liebherr-Australia in broad terms, Kerr confirmed: "aside from the engine itself, all components used in the power packs, such as splitter boxes, radiators and hydraulic pumps, were rebuilt in our Adelaide Reman facility with all hoses manufactured in the Liebherr hose shop. From a local labour perspective, 24 technicians, electricians and supervisors were involved in the project working 24 hours a day for 6 days and 5 nights. There were four fire suppression technicians required for the recommissioning of fire system and on the last day, two Cummins technicians were required to commission the engine. Mt Thorley branch ensured sufficient product support representatives and a leading hand were present to complete a full hydraulic tune up."
As always, safety was paramount on this project, with pre-erected scaffolding in place for ease of access and safety when power packs were removed and minor parts interchanged.
According to Liebherr, the success of this project was based on teamwork and an acute understanding of the customer requirement and delivering a solution. The power pack replacement project reduces machine downtime for major end of life component replacement from 14 days to 6 days. It enables a critical production machine to be repowered in greater than half the time of a traditional engine change. The results are based on availability and this was shown during the month of October, following the installation of the rebuilt modules, with Digger 3 exceeding 600 production hours for the month, while maintaining high MTTS/MTTF with strong availability and reliability figures, much to the delight of Production and Maintenance at Moolarben Coal.
Read the article online at: https://www.worldcoal.com/mining/19122016/first-repowered-r-996-b-mining-excavator-delivered-in-the-hunter-valley/
You might also like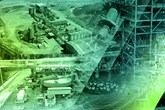 DRA Global has secured the contract for a major design package for Whitehaven Coal's Vickery Extension Project located in New South Wales, Australia.