---
ExxonMobil and ENER-G have created a free guide to energy efficiency measures for the mining sector, which can be downloaded here.
The guide provides advice and practical recommendations on how managers can prioritise productivity while also saving energy. It recommends adopting an integrated energy strategy, including smart metering and control strategies, energy audits, decentralised energy generation (such as combined heat and power [CHP]), and changing to more energy-efficient lubricants.
It also offers best-practice tips on reducing energy demand in offices, factories and warehouses; summarises the financial help available for implementing energy efficient measures (such as CHP); describes how the right lubricant selection can help companies save energy; and provides guidance on legislative and regulatory compliance.
"Industrial energy bills can be reduced by as much as one fifth through simple, cost-effective measures to cut wastage," said Chris Marsland, Technical Director for ENER-G. "The guide outlines how onsite energy generation using efficient, low-carbon technologies, such as combined heat and power, can create enormous savings. The latest research shows that inefficient energy production is costing the UK £9.5 billion per year, whereas decentralised energy production using CHP can achieve cost savings of up to 40% over electricity sourced from the grid and heat generated by onsite boilers."
The guide also contains advice from experts at ExxonMobil on how high-performance synthetic lubricants can help companies save energy.
"High-performance lubricants, such as the Mobil SHC Gear series, can help businesses to enhance energy savings, improve productivity and provide safety benefits by cutting unscheduled maintenance," said Andrea Jacobsen, Industrial Marketing Manager for Europe, Africa and Middle East at ExxonMobil. "The mining sector, like many other energy-intensive industries, is looking at ways to cut its energy consumption without hampering productivity. We hope this guide will help increase awareness of the important role that lubricants can play in attaining that goal."
Jacobsen highlighted the case studies in the guide, pointing out how these demonstrate the practical benefits of Mobil-branded lubricants. "In addition to helping customers to reduce costs, these lubricants can also help businesses achieve the requirements of ISO 50001 Energy Management certification. This is why lubricant choice should be a key consideration for companies that are looking to become more energy efficient."
Edited from press release by Harleigh Hobbs
Read the article online at: https://www.worldcoal.com/mining/16062016/exxonmobil-ener-g-launch-energy-efficiency-guide-for-mining-sector-978/
You might also like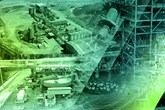 DRA Global has secured the contract for a major design package for Whitehaven Coal's Vickery Extension Project located in New South Wales, Australia.