---
Texas Mineral Resources Corp. (TMRC), an exploration company targeting the heavy rare earths and a variety of other high-value elements and industrial minerals, is pleased to announce that on June 9th the Department of Energy's (DOE) Office of Fossil Energy selected a Texas Mineral Resources consortium assembled by Texas Mineral Resources as one of only three projects to each receive a US$1 million grant as part of a two-phase US$23.75 million Funding Opportunity Announcement published in September 2016 (FOA-0001627): Production of Saleable Rare Earth Elements from Domestic US. Coal and Coal Byproducts.
TMRC's project partners include Inventure Renewables Inc (Tuscaloosa, AL), K-Technologies Inc (Lakeland, FL) and Penn State University (State College, PA). The Texas Mineral Resources consortium objective is to ultimately install a self-contained, modular and portable continuous ion exchange/continuous ion chromatography (CIX/CIC) pilot plant at a selected Pennsylvania site, and to determine the economic viability of profitably producing scandium and other rare earth minerals associated with coal waste material from Pennsylvania coal.
"The DOE has spent the better part of seven months evaluating these competitive applications and we are honored to see our submission selected for this award," commented Dan Gorski, CEO. "We believe that the technological strength and experience of our team goes a long way toward creating a positive result from this project. This grant is a significant step forward toward establishing the first of these operations in the Appalachian region. I would also comment that the process development planned for this project and the experience we gain will also apply directly to our Round Top heavy rare earth deposit near El Paso, Texas." Anthony Marchese, chairman, added: "I believe this is the beginning of an exciting period for TMRC shareholders. The potential to profitably produce scandium and other rare earth minerals from Pennsylvania coal waste holds great promise. Creating value from waste is an environmental goal shared by all citizens, especially when considering the strategic nature of the minerals proposed to be produced. We are fully committed to working with local companies, capital sources and public officials in order to create meaningful economic opportunity for the Appalachian region, which for too long has seen a period of decline. DOE Secretary Perry has committed to aiding the coal industry and at TMRC we are doing our part in an effort which potentially creates a win-win for shareholders, the region and the United States."
This is TMRC's second recent award granted by a major U.S. Government agency relating to the production of rare earth minerals. In September 2015, the U.S. Department of Defense, through the Defense Logistics Agency (DLA) awarded the Company a Broad Agency Announcement (BAA) research contract. In July 2016 TMRC announced it had successfully completed a demonstration-of-concept project to separate and refine specific high-purity rare earth elements for the DLA Strategic Materials Division in conjunction with its joint venture partner K-Technologies, Inc. (K-Tech). In the bench scale demonstration, Texas Mineral Resources Corp. and K-Tech successfully separated specified high-value rare earths to between 99.996 and 99.999% purity, using static column systems designed to provide the general design concepts for ultimate use of continuous ion exchange (CIX) and continuous ion chromatography (CIC) systems at larger scales. The use of continuous systems may allow for larger scale production at reduced capital and operating costs when compared to previous fixed bed chromatographic methods or solvent extraction separation techniques.
Read the article online at: https://www.worldcoal.com/mining/15062017/doe-awards-texas-mineral-resources-consortium-major-grant/
You might also like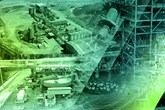 DRA Global has secured the contract for a major design package for Whitehaven Coal's Vickery Extension Project located in New South Wales, Australia.