---
The company results clearly display a record year for Whitehaven.
Highlights
Strong safety performance
Group TRIFR 7.42 at the end of June – June quarter ROM coal production of 6.6 million t and saleable coal production of 5.5 million t, up 18% and 7% respectively on previous corresponding period (pop).
Full year ROM coal production of 23.1 million t, up 13% on pcp.
Record full year saleable coal production of 20.8Mt, up 6% on pcp Managed and equity sales of 20.7 million t and 15.8 million t, up 3% and 2% respectively on pcp.
The three Gunnedah open cuts produced a record 2.1 million t ROM coal in the quarter.
Full year ROM coal production of 9.7 million t from Maules Creek mine, operating at 10.5 million tpy rate in the second half.
Full year ROM coal production from Tarrawonga and Rocglen of 2.7 million t and 1.6 million t respectively.
Longwall changeout at Narrabri completed and mining the first 400 m wide panel has commenced.
Coal sales
Managed coal sales, excluding sales of purchased coal, for the June quarter were 5.396 million t, up 5% on the previous corresponding period. Sales in the quarter comprised 25% metallurgical coal and 75% thermal coal. Equity coal sales excluding purchased coal in the June quarter were 4.134 million t, up 6% on the previous corresponding period and comprised 64% high CV thermal, 25% metallurgical coal and 11% low CV thermal coal. Overall sales for the quarter were below expectations following a grain train derailment in early June, slower than expected recovery from a planned maintenance programme on the rail line by ARTC and some port congestion at the end on the period. Equity sales for FY2017 excluding purchased coal were 15.486 million t, similar to the previous year. Sales comprised 22% metallurgical coal and 78% thermal coal. Sales of metallurgical coal continue to increase primarily due to Maules Creek ramping up production of semi soft coking coal. However, incremental sales of metallurgical coal from Maules Creek in the June quarter were lower than anticipated as the combination of a high thermal spot price and relatively low semi soft spot price made it more commercially attractive to produce and sell a higher proportion of Maules Creek coal as thermal. The pricing differential between thermal and semi soft coking coal that prevailed the June quarter is expected to normalise sometime in the next quarter and Maules Creek will resume growing incremental metallurgical coal production and sales.
Whitehaven expects to sell about 1.0 million t (100% basis) of metallurgical coal in the September quarter with about 60% of the sales index or spot price linked and the balance quarterly benchmark price linked.
Maules creek mine
Whitehaven 75% As expected Maules Creek established new production records for the June quarter and the full year.ROM coal production from the mine in the two periods was 2.764 million t and 9.729 million t respectively. Production for the two periods was significantly above the previous corresponding periods as the ramp up of production progressed. The mine operated at 10.5 million tpy for the second half of the year following the deployment of additional equipment late in the first half of the year. The next step up in production will occur in early FY2019 when additional mining equipment is to be added to the fleet. As a result, production for FY2018 is forecast to be 10.5 million t ROM coal. Mining below the Braymont seam commenced during the quarter, which will enable access to the lower seams in the deposit later this year. The coking properties of the coal in these seams are expected to be better than in the upper seams improving the overall quality of the metallurgical coal produced by the mine Saleable coal production for the quarter and year was 2.478 million t and 8.986 million t, up 10% and 22% respectively. Metallurgical coal sales of 0.821Mt in the June quarter represented 32% of the total sales from the mine. Full year sales of metallurgical coal were 2.321 million t and comprised 26% of total sales.
Read the article online at: https://www.worldcoal.com/mining/13072017/whitehaven-reports-record-results/
You might also like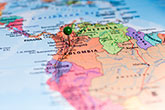 Benjamin Hill has entered into a nonbinding letter of intent with Aion to acquire interest in a Colombia coal project.