Urgent solutions needed for "squeezed" mining sector
---
Mining is being squeezed between low commodity prices and rising expectations from government and civil society, but is still struggling to find practical strategies out of this predicament, according to SRK Consulting (SA) chairman and corporate consultant Roger Dixon.
Commenting from the African Mining Indaba in Cape Town, South Africa, Dixon said that a number of speakers had highlighted the dilemma that the sector is facing – trying to ride out the commodity slump while needing to address its social license to mine.
"It is argued by some that mines have failed to invest sufficiently during the good times in technology and training, which would have created a sounder foundation for higher productivity in tough times like these," said Dixon.
He said the solutions to balancing the demands made by shareholders and society are likely to come from more constructive partnerships between mining companies, government and NGOs – a point made strongly at the conference by former British Prime Minister, Tony Blair.
"These relationships often remain adversarial and strained, when they should in fact be the foundation for mining ventures and other positive economic spin-offs," he said.
Growing levels of disillusionment around the globe with traditional models of capitalism also fed into current trends in resource nationalism that affect the terms on which mines are started and operated.
"It is also apparent that many mining companies have reverted to a stricter compliance-focused approach as their margins come under increasing pressure," said Dixon, "even though the broader political environment demands that they pay more attention to their social and natural environment."
He said that innovative solutions were now urgently required, as the challenges were clear to see and many of these were being well aired at the Indaba.
"Certainly there are many opportunities in Africa to contribute to infrastructure development, which is needed to underpin broader economic growth," he said. "In particular, the improvement of Africa's electricity infrastructure is vital for all other sectors."
Better technology infrastructure – such as the roll-out of broadband access – will boost economies by facilitating efficiencies and raising productivity; it could also ease the cost of doing business generally, while contributing significantly to education and national skill levels.
Dixon said the mood at the conference suggested that improvements in the macro-economic environment were still some way off, but that continued population growth was still a global factor that bodes well for future demand in mineral commodities.
"A more immediate and concerning trend is the increasingly inward focus of many larger economies such as China and the US," he said, "as this is in sharp contrast to the steady globalisation of the world economy over recent decades – a trend that was hoped to benefit continents like Africa."
Adapted from press release by Sam Dodson
Read the article online at: https://www.worldcoal.com/mining/12022015/solutions-needed-for-squeezed-mining-sector-1880/
You might also like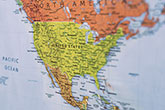 American Resources has announced that it has expanded production at its Carnegie 2 metallurgical carbon mine in Pike County, Kentucky, by adding a second operating section.