Mining - 08 September 2017
The announcement follows the results of a pre-feasibility study in the Telkwa Metallurgical Coal Project.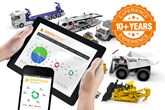 The company's SmarTrack® Fleet Management responds to an industry need for a sophisticated web reporting system.
The loan will finance the purchase of mining equipment to facilitate a production increase.