A new mine haulage concept – Part 2
---
Eddy de Jongh, European Truck Factory GmbH, Germany, outlines the problems faced by the global mine haulage market.
In the first part of this article, the author discussed the problem facing the global mine haulage articles. The article concludes with a discussion of a new mine haulage concept being development by European Truck Factory GmbH (ETF).
ETF determined several targets for its new truck design, namely that it must:
Increase safety.
Incorporate all-wheel drive and all-wheel steer.
Have a reduced environmental footprint.
Be able to meet production requirements during bad weather and the associated poor road conditions.
Reduce costs for:


Haul road construction and maintenance.
Operators.
Fuel
Tyres.

Increase technical availability and overall utilisation.
Reduce mobilisation cost and time.
A modular concept
A modular technical design for all truck types was developed to realise the above requirements. This design enables fast delivery and site erection using conventional container transport, and requires no special permits and no wide load restrictions. A reduction in spare parts stock enables more economical manufacturing and overall reduced cost of operation.
ETF decided from the outset of its new machine development that simply introducing innovative products was not satisfactory in isolation. Therefore the company developed a maintenance and repair system with the aim of ensuring lowest cost/t operation. This is combined with a business model that relieves the client from technical issues, allowing mine operators to concentrate on production.
The ETF advanced maintenance system enables all maintenance and repair work to be performed independent of haulage operations. Maintenance and repairs are completed on the individual exchangeable modules in the workshop, without the truck.
Components are exchanged and the truck returns to production within 15 min for wheel, power-module and cabin repair and within 45 min for total axle-group maintenance. The combined system includes an integrated preventive maintenance to avoid time-consuming unscheduled repairs.
Sequence
Stage 1 – F1 pit-stop system: The system is modelled on Formula 1 pit-stops. The truck arrives at the workshop; the component exchange takes place; and the truck is immediately returned to work. There are no time-consuming diagnostics followed by a long wait for the necessary parts. This enables 95% technical availability during the full life cycle of the machine.
Stage 2 – Component repair: The suspect component is repaired in the workshop while the truck is back in full production. When completed, the component is fully tested using a rolling road before being stored for the next exchange.
Stage 3 – Parts repair: All parts that are exchanged at the component repair stage are repaired or, if required, sent back under manufacturer's warranty.
Truck repair monitoring system
To enhance the process, the company developed a Truck Repair Monitoring System (TRMS©). The system requires all employees to register using fingerprint recognition technology. All individual components and parts have RFID tags or barcodes for electronic data processing. Automatic tag reading is completed when each truck enters or exits the workshop. Components, including the chassis, power-modules, axle-groups, the cabin, dump-body and tyres, are all read, enabling automatic operating hour's registration of truck, components and tyres. It also reduces maintenance and inventory costs and reduces human error.
The system also comprises an integrated preventative maintenance programme to avoid unscheduled repairs. This programme monitors the technical status of components:
Global trends in operational performance are monitored and scrutinised by the company and immediate remedial action is taken, if necessary.
Required parts are automatically ordered from European stockists, assuring short delivery times. Warranties are also automatically processed.
Special tooling and testing equipment was also developed, such as tyre changers, special lift truck (SLT) and power-module and axle-group testers.
Conclusion
ETF's modular technical design and advanced IT results in an advanced maintenance and repair system that provides:
High speed.
High quality.
Low costs.
24/7 stock updating with automatic parts ordering.
Reduced human error.
All parts in stock in Europe.
Shortest possible lead times.
The system is designed for superior truck performance, with an aim of 95% technical availability during the full life cycle to help mine operators achieve the all-important lowest cost/t.
Written by Eddy de Jongh, European Truck Factory GmbH, Germany.
Read the article online at: https://www.worldcoal.com/mining/08012014/coal_mining_a_new_mine_haulage_concept_part2_etf_mining_trucks_mining01b/
You might also like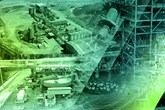 DRA Global has secured the contract for a major design package for Whitehaven Coal's Vickery Extension Project located in New South Wales, Australia.