---
According to a recent media release from Engie, a bucket wheel excavation project is under way in the Hazelwood mine as part of the site's rehabilitation activities.
This is a new process developed for the Bucket Wheel Team, which will see the placement of suitable clay material for Toe Weights that are required for final land form stability measures. Used in mining, Toe Weights are designed to prevent coal blocks from shifting.
Following the re-location of the Stacker (TS2) onto the Level 2 Dump in the South Eastfield Southern Batters, the bucket wheel excavator (Dredger 25) has delivered enough material for the completion of the first Toe Weight required for stability measures.
TS2 is currently placing material required for the second Toe Weight.
The process includes up to four dozers pushing about 4500 m2 of suitable material each shift down a 3:1 slope in one metre layers, compacting at the same time. The area is then tested for compaction by geotechnical consultants and if the results are satisfactory, the next layer of material can be pushed down and the process repeated.
Because of the extensive dozing required, Hazelwood's Earthworks Group operators are working closely with the Bucket Wheel operator work group on a seven day a week operation.
Read the article online at: https://www.worldcoal.com/mining/07092017/bucket-wheel-excavation-project-under-way-at-hazelwood-mine/
You might also like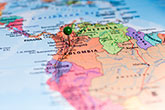 Benjamin Hill has entered into a nonbinding letter of intent with Aion to acquire interest in a Colombia coal project.