A new mine haulage concept – Part 1
---
Eddy de Jongh, European Truck Factory GmbH, Germany, outlines the problems faced by the global mine haulage market.
A little under a decade ago, European Truck Factory GmbH (ETF) approached a number of engineers, designers and industry consultants, with combined lifetime experience in the mining equipment industry. Collectively, they commenced the development of a completely new mine haulage truck design.
Setting out the problems
An analysis of the current global mine haulage market found that the sector faced a number of problems and challenges.
1. Economics
The economic challenges faced by the mine haulage market are numerous:
Current trucks have low technical availability due to inherent design and excessive repair and maintenance time.
There is a prevalent loss of utilisation due to high rainfall and resulting slippery roads in warmer tropical areas and ice and snow in colder regions, where many mines completely shut down because trucks cannot operate.
Trucks face unpredictable repair costs during their life cycle.
Tyre costs are high and many operations encounter difficulties with supply.
Trucks are susceptible to frame cracking and tyre damage due to haul road conditions.
The logistics involved in spare parts is often expensive, slow and outdated.
There are high incidents of accidents and costs due to injuries to machine operators, ground personal and equipment.
Haul road construction and maintenance incur high costs.
Parts inventories catering for different truck types are expensive.
Many operators have very limited awareness of the true operating costs and revenue.
2. Operation
Operational difficulties encountered by the sector include:
The majority of trucks run empty for 50% of their operating hours.
Shift changes are lengthy due to prolonged technical checks.
Safety and productivity is dependent on the operator.
Operators can experience vibration transfer, resulting in fatigue and illness.
Shifts of up to 12 hours, especially in North America and Australia, are common.
Warrantee processing is time consuming.
Parts logistics can be unnecessarily complex.
Accidents can occur due to:


Restricted operator view.
Operator fatigue.
Wet and slippery road conditions resulting from limiting two wheel drive.
3. Environment
Further, there are a number of environmental concerns association with truck haulage:
Diesel engines generate greenhouse gas (GHG) emissions. Many engines meet Tier 1 or Tier 2 emissions standards at best.
Operations produce large quantities of waste engine and hydraulic oils, as well as discarded tyres.
The logistics involved in acquiring tyres, oils, fuel and parts are usually not taken into account when considering GHG emissions.
4. Human resources
Acquiring the right people to run an operation brings with it another set of challenges:
Operators and mechanics are in short supply and therefore often very expensive.
Personnel incur high transport and boarding costs (fly-in fly-out).
Training is expensive.
Many operations experience language problems between local and foreign employees.
Methodology
Taking these existing problems into account, ETF determined several targets for its new truck design, namely that it must:
Increase safety.
Incorporate all-wheel drive and all-wheel steer.
Have a reduced environmental footprint.
Be able to meet production requirements during bad weather and the associated poor road conditions.
Reduce costs for:


Haul road construction and maintenance.
Operators.
Fuel
Tyres.

Increase technical availability and overall utilisation.
Reduce mobilisation cost and time.
In the conclusion of this article, the author discusses ETF's new design concept for mine haulage trucks. It is available to access here.
Written by Eddy de Jongh, European Truck Factory GmbH, Germany.
Read the article online at: https://www.worldcoal.com/mining/07012014/coal_mining_a_new_mine_haulage_concept_part1_etf_mining_trucks_mining01a/
You might also like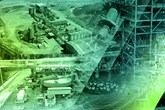 DRA Global has secured the contract for a major design package for Whitehaven Coal's Vickery Extension Project located in New South Wales, Australia.