---
Southern Africa coal producer, Buffalo Coal Corp., has reported a roof fall at its Magdalena underground mine in Kwa-Zulu Natal Province in South Africa. No employees were affected by the incident, said the company, which expects partial loss of raw coal production for two weeks.
The loss of production will be covered by existing coal stock at the mine, the company said, meaning deliveries to customers will not be impacted by the roof fall.
According to the company, the roof fall occurred in a worked-out area of the mine that was being used as an access way for conveying coal from two of the four production sections to the surface. As a result, a planned relocation of the conveyor to a new surface adit will be expedited. The new adit has already been constructed and has been used for several months for the transport of working crews to two underground sections.
The other sections of the mine will continue production.
Written by Jonathan Rowland.
Read the article online at: https://www.worldcoal.com/mining/05082015/roof-fall-at-magdalena-mine-2682/
You might also like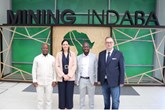 Continuing a spate of new global enrolments, the World Coal Association (WCA) has welcomed South African mining investor, Menar, to its roster of progressive coal members.