Court approves restart of mining at Navajo
---
A federal appeals court has vacated an earlier court order stopping operations at part of the Navajo coal mine in New Mexico, US, according to a report from a local newspaper.
Last year, mining in Area IV North at the Navajo mine was halted on the order of a federal judge, who ruled the US Office of Surface Mining, Reclamation and Enforcement (OSMRE) should have considered the environmental impact of burning coal produced at the mine in its approval process.
As the OSMRE had failed to do this, the mine's approval violated the National Environmental Policy Act.
The mine, which is owned by the Navajo Transitional Energy Co. (NTEC), itself owned by the Navajo Nation, supplies the Four Corners Power Plant. In a press release following the appeal court's ruling, NTEC welcomed the decision – but said the halt in mining operations had already cost the Navajo Nation US$2 million.
"NTEC is very pleased with this outcome on appeal," said Clark Mosely, CEO of NTEC, in a press release. "The unfortunate decision of the Colorado District Court last year is no longer on the books and NTEC can now move on with its operations on behalf of the Navajo Nation."
The Navajo Nation bought the Navajo mine from BHP Billiton last year for US$85 million.
Read the article online at: https://www.worldcoal.com/mining/04042016/federal-court-approves-restart-of-mining-at-navajo-2016-516/
You might also like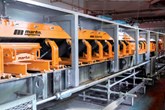 A global leader in bulk handling accessories and safety, Martin Engineering, is expanding its presence in the Asian Pacific market by opening a business unit in Malaysia.