---
Joy Global, a worldwide leader in high-productivity mining solutions, has reported consolidated bookings in the first quarter totalled US$550 million – a decrease of 21% compared to the same quarter in 2015. Original equipment orders decreased 33%, while service orders were down 18% compared to the prior year.
According to the global miner, current quarter bookings were reduced by US$50 million from the impact of foreign currency exchange movements versus the year ago period, a US$15 million decrease for original equipment and a US$35 million decrease for service bookings. After adjusting for foreign currency exchange, orders were down 14% compared to the first quarter of 2015, with original equipment orders down 24% and service orders down 11%.
Bookings for underground mining machinery decreased 31% in comparison to 1Q15. Original equipment orders decreased 39% compared to the previous year. Bookings for opencast mining equipment saw smaller declines, decreasing 8% in comparison to the prior year first quarter. Original equipment orders decreased 19% compared to 2015.
"While market conditions took another step down this quarter, our results were in-line with the company's expectations heading into the quarter," said Ted Doheny, President and CEO. "Our customers are taking unprecedented actions on their equipment fleets to conserve cash as commodity prices have weakened. This has adversely impacted our incoming order rate, particularly in the U.S. coal and copper markets. In the face of these difficult conditions, we continued to aggressively reduce costs and tightly control trade working capital and capital expenditures, resulting in another quarter of strong cash generation."
Doheny continued: "I am very proud of the resiliency of the Joy Global team. These market conditions require tough, decisive action on costs and our team continues to deliver on this challenge while remaining intensely focused on helping our customers solve their toughest operational challenges. The ultimate result of these actions will make us a stronger company that is able to respond to both current and future demand."
Joy reported consolidated net sales totalled US$526 million, decreasing 25% compared to first quarter of 2015. Original equipment sales decreased 39% and service sales decreased 20% compared to the prior year. Net sales for underground mining machinery decreased 29% in comparison to the same period in 2015 and net sales for surface mining equipment decreased 20% in comparison 2015.
The mining company's operating loss for the first quarter of fiscal 2016 totalled US$45 million, compared to operating income of US$58 million in the first quarter of fiscal 2015. This included an aggregate negative impact of US$27 million from restructuring charges – primarily in the underground North America and China regions – compared to a cumulative net US$2 million positive impact in the first quarter of fiscal 2015 for restructuring charges, mark to market pension income and excess purchase accounting charges.
Outlook
With weakening Chinese and emerging markets, as well as US coal facing many challenges leading to falling production and a slowing in seaborne thermal coal markets slowing, weakening commodity demand is foreseen.
Joy Global indicated with limited scope for an improvement in commodity prices, mining companies are being forced to take unprecedented measures to defer spending on equipment maintenance and procurement. Strained cash flows among its customers are expected to drive further delays in maintenance work and original equipment purchases.
"We will continue to control those factors which we can," continued Doheny. "With the increased challenges in some of our end markets, we are further leveraging our footprint optimisation and other operational excellence strategies across the business and are now targeting over US$100 million in cost reductions for the year. We will also remain focused on driving additional cash gains through improved working capital performance and monetization of non-core assets.
"Our key product development programs are moving forward and we are seeing successes in field trials on our hybrid excavator and our underground hard rock loader. We believe that these organically developed machines will deliver significant value to our customers and we look forward to delivering them to the market place later this year and into 2017. Providing customers with highly differentiated equipment and service systems solutions to improve safety and lower their cost per ton is the core of our strategy."
Dohney concluded: "Taking into account current weaker market conditions, we now expect sales and earnings for the year excluding restructuring charges and mark to market pension adjustments to be towards the middle of our previous guidance range of US$2.4 billion to US$2.6 billion for sales and US$0.10 to US$0.50 for adjusted earnings per fully diluted share. With regard to phasing across the fiscal year, we expect all of our adjusted earnings will come in the second half of the fiscal year."
Edited from press release by Harleigh Hobbs
Read the article online at: https://www.worldcoal.com/mining/04032016/joy-global-operating-results-reflect-tough-mining-conditions-335/
You might also like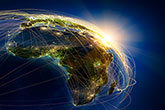 Contango Holdings Plc has advised that the production of washed coking coal has commenced at its flagship Lubu Coking Coal Project in Zimbabwe.