Whitehaven Coal increases its exploration capability with MICROMINE's Geobank
Published by Claire Cuddihy, Assistant Editor
World Coal,
---
As global demand for Australian coal continues to escalate, MICROMINE's geological data management system, Geobank, has extended its presence in Australia's coal mining sector by securing a contract with Whitehaven Coal.
One of Australia's largest independent coal producers, Whitehaven Coal, has implemented Geobank across all of its projects in New South Wales and Queensland.
Whitehaven Coal produced 16 million t of coal in 2018, contributing to record Australian coal export results. In February 2019, the Australian Bureau of Statistics revealed coal was the country's highest earning export commodity for 2018, accounting for AUS$66 billion in export revenue.
Senior Geobank Data Management Specialist Ibo Mango said Geobank provided an important tool for coal miners to hone, manage and direct their exploration and production processes.
"Geobank helps companies of all sizes to better record, access, review, integrate and utilise their essential geological data."
"Problems with inaccurate data are often invisible. Loss of data, poor accessibility or quality control issues can cost millions of dollars and cause inaccurate decision making, especially in a high-yield sector like coal."
As a strong player in the Australian coal mining industry and with a major expansion project underway, Whitehaven Coal procured Geobank to provide a robust, flexible data management solution.
Geobank has adapted to suit Whitehaven's specific work flow requirements, including data collection, validation and depth adjustment, browsing and advanced reporting needs.
"Geobank's fully customisable solution provided Whitehaven with extended functionality designed specifically for their exploration and mining needs. Geobank provides specialised utilities for displaying and managing drillhole data."
Geobank also integrates the Australian CoalLog Standard, which was introduced in 2012.
Before CoalLog, around 30 different data formats and over 100 different data code translation tables were used in the capture of geological and geotechnical data, which led to major inefficiencies in the collection, transfer, and analysis of coal borehole data.
Members of MICROMINE's Geobank team played a pivotal role in the development of CoalLog and have ensured its integration into Geobank's suite of products.
Read the article online at: https://www.worldcoal.com/mining/03072019/whitehaven-coal-increases-its-exploration-capability-with-micromines-geobank/
You might also like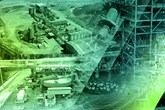 DRA Global has secured the contract for a major design package for Whitehaven Coal's Vickery Extension Project located in New South Wales, Australia.