---
Mechel PAO (MOEX:MTLR) (NYSE:MTL), a leading Russian mining and steel group, has announced financial results for the 1Q17.
Mechel PAO's Chief Executive Officer Oleg Korzhov commented:
"In the first quarter of 2017 the Group showed good financial results. Favourable price trends had their positive impact. Even though spot prices for premium coking coal went down from the heights they reached in the fourth quarter of 2016 to US$150-170 per tonne by mid-quarter, the first quarter's contract prices were higher than in the fourth quarter of 2016, which enabled us to retain average prices at a high level. Thanks to this situation, our mining segment managed to achieve an observable growth of EBITDA.
"At the same time, for our steel segment which produces primarily construction range products, the first quarter is traditionally the time of weaker demand and lower prices. High prices for coal and iron ore, which support our mining segment's results, contributed to production cost growth of our steel segment. As a result, even though revenue was only 2% lower quarter-on-quarter, the steel segment's EBITDA declined by half.
"In total our consolidated revenue was 77.4 billion rubles for the reporting period, which is 3% less than in the fourth quarter of 2016, while EBITDA went down by 7% and reached 22.8 billion rubles. At the same time, our net profit attributable to equity shareholders of Mechel PAO for the first quarter went up by nearly nine times, reaching 13.9 billion rubles."
Mining segment
Mechel Mining Management Company OOO's Chief Executive Officer Pavel Shtark noted:
"In the first quarter of 2017 the segment demonstrated an improvement in financial results if compared with the fourth quarter of 2016, with EBITDA up by 11%, EBITDA margin reaching 49%. It became possible due to a good price trend on seaborne coal markets. The growth of iron ore prices, which continued in the first quarter, also helped to improve our financial results.
"In this reporting period, our facilities slightly decreased its coal mining volumes in comparison with previous quarter due to intensification of the stripping works to prepare reserves. Also the decrease of volumes in the first quarter was affected by seasonality of climatic conditions that requires more efforts in equipment maintenance. The decrease in supplies of coking coal concentrate to third parties was partly due to the fact that we have again re-directed some of our coal volumes for internal use as export market prices became less attractive. At the same time, we increased shipments of PCI and anthracites, primarily to our Asian customers.
"We used the beneficial economic situation to boost the technical reequipment of our facilities. In the first quarter, Yakutugol put into operation an EKG-18 excavator and a Liebherr R 9200 excavator. In the second quarter, we plan to put into operation one more excavator. To maintain our mining capacity, in 2017 we plan to acquire and put into service more than 20 new vehicles such as trucks, bulldozers and other equipment at both Yakutugol and the Elga deposit. This year, we plan to complete construction and launch a run-of-mine coal crushing facility with a 2.3-million-tonne capacity at Elga. As a result we will ensure the stability of mining volumes and recovery of mining volumes where they temporarily decreased.
Read the article online at: https://www.worldcoal.com/mining/01062017/mechel-reports-1q17-results/
You might also like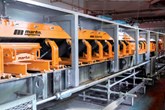 A global leader in bulk handling accessories and safety, Martin Engineering, is expanding its presence in the Asian Pacific market by opening a business unit in Malaysia.