Viable rail link between Ovoot and Russian border confirmed by preliminary economic assessment
Published by Claire Cuddihy, Assistant Editor
World Coal,
---
Mongolian metallurgical coal and infrastructure company, Aspire Mining Limited (Aspire), has announced that its rail subsidiary, Northern Railways (NR) (80% owned), has received a preliminary economic assessment (PEA) from Perfect Road Project LLC, a Mongolian rail design and engineering group, for a rail link between the company's Ovoot project and the Mongolia-Russian border port of Arts Suuri.
The PEA concludes that the favoured route for construction of the Ovoot - Arts Suuri rail link would see a 238.6 km extension from the Ovoot railway heading west/north-west to the Mongolian border port at a current estimated capital cost of US$581.82 million (excluding contingencies) or approximately US$2.44 million/km. This confirms the capital cost is in the range estimated by an earlier scoping study completed in 2015, and is comparable to the Erdenet to Ovoot feasibility study recently completed by NR consortium partner China Gezhouba Group International Limited. The PEA applied Mongolian class 2 railway design standards to ensure compatibility with the Erdenet - Ovoot rail project and will have up to 15 million tpy capacity – with additional capacity able to be later added to meet demand growth.
The opportunity to further reduce construction costs have also been identified in the PEA. The PEA assumed a multitask freight service with two way transport of container freight, coking coal and other resource and agricultural commodities. In the company's view, the sequential development of the Ovoot - Arts Suuri rail extension – and connection to the markets beyond - would yield material long-term benefits in expansion and diversification of both rail services and export markets and add significant value to the Erdenet to Ovoot Railway. Development of the Ovoot - Arts Suuri rail would link with planned rail development in the Tuva region in southern Russia. As per Aspire's ASX announcement on 22 March 2018, the Russian railway design institute Mosgiprotrans, is to complete a similar PEA on a railway to link Kyzyl to Arts Suuri to extend the Kuragino to Kyzyl rail line. That extension is currently targeted for completion in 2022. The new economic corridor could potentially create the fastest and lowest cost rail path linking North Eastern China, Mongolia, Russia and Europe, and play an integral part in regional development. The corridor has broad support from regional and federal governments in Russia and sits within China's One Belt, One Road (OBOR) policy and would substantially enhance trade and economic ties between the regions.
The Mongolian government has included the Erdenet-Ovoot-Arts Suuri rail corridor in its national railway policy and identified the Erdenet to Ovoot railway as a priority project. In 2016, the Northern Rail Corridor was confirmed by German logistics company, Transcare, as a cost and time-advantageous corridor linking China and Europe that would satisfy the growing demand for freight services in the region once completed.
Impact on Erdenet – Ovoot railway
Linking the Erdenet - Ovoot railway into the Northern Rail Corridor substantially improves economics for all stakeholders. The recently completed feasibility study for the Erdenet - Ovoot railway assumed Mongolian-only domestic freight volumes of up to 16 million tpy with a capacity of up to 30 million tpy. By utilising more of the 30 million tpy capacity, the financial robustness of the Erdenet - Ovoot Railway increases significantly.
Increasing two-way freight volumes on the Northern Rail Corridor will drive further capacity increases and efficiencies along the Trans Mongolian Railway, further cementing the competitiveness of rail between China and Russia through Mongolia.
Aspire's Executive Chairman, David Paull, said: "The delivery of this Preliminary Economic Assessment (PEA) provides further confirmation of the viability of the Northern Rail Corridor. The company has provided this PEA to the Mongolian Ministry of Roads and Transport and Mongolian rail operator UBTZ Railways JSC to provide further justification to proceed to implementing the Ovoot to Arts Suuri rail project as part of the Northern Rail Corridor."
Read the article online at: https://www.worldcoal.com/handling/29102018/viable-rail-link-between-ovoot-and-russian-border-confirmed-by-preliminary-economic-assessment/
You might also like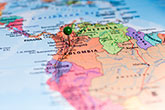 Benjamin Hill has entered into a nonbinding letter of intent with Aion to acquire interest in a Colombia coal project.