---
US rail operator, Union Pacific, has recorded operating freight revenues of US$5.2 billion in 3Q15 – down 10% from US$5.8 billion in 3Q15 – despite coal revenues falling by almost a fifth.
"Total volumes decreased about 6% in the quarter, more than offsetting another quarter of solid core pricing gains," said Lance Fritz, Chairman, President and CEO of Union Pacific.
Coal revenue was down from just under US$1.1 billion in 3Q15 to US$898 million – a drop of 18% – while coal volumes, as measured by revenue carloads, were down 15%. Year-to-date coal revenues were also 18% down at US$2.5 billion from over US$3 billion last year with coal volumes down 16%.
"We've made great progress in meeting this year's challenges," continued Fritz. "As we finish 2015 and head toward next year, we continue to face many uncertainties. Energy prices, the consumer economy, grain markets and the strength of the US dollar will all be key to future demand."
In additional to its coal business, Union Pacific recorded volumes drops in all of its business groups except automotive with agricultural products down 3%, chemicals down 3%, industrial products down 12% and intermodal down 4%.
The weakness in volumes has been partially offset by falling costs, including an average diesel fuel price of US$1.81/gal. – 40% lower than 3Q14. This resulted in a fuel spend of just US$484 million for the quarter, down 45% from US$882 million. Year-to-date, fuel spend is down 42% at US$2.7 billion.
Overall operating expenses were down 13% at US$3.34 billion for the quarter and 9% year-to-date. The company recorded operating income of US$2.2 billion – down 5% on 3Q14 – with net income of US$1.3 billion – also down 5%.
Union Pacific operates one of the largest rail networks in the US, connecting 23 states in the western two-thirds of the country, as well as with Canada's rail network and to all six major Mexico gateways.
Edited by Jonathan Rowland.
Read the article online at: https://www.worldcoal.com/handling/27102015/weak-coal-volumes-hit-union-pacific-in-3q15-3071/
You might also like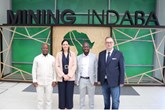 Continuing a spate of new global enrolments, the World Coal Association (WCA) has welcomed South African mining investor, Menar, to its roster of progressive coal members.