---
Arch Coal has given up its stake in the proposed Millennium Bulk Terminals in Longview, Washington. The deal gives Lighthouse Resources, formerly known as Ambre Energy, full ownership of the project. Arch Coal will retain long-term throughput rights at the port, as well as nominating a representative to the advisory board.
"We view this transaction as the next logical step in Arch's involvement in Millennium," said Deck Slone, Senior Vice President at Arch Coal and Member of Millennium Board. "Given the momentum Millennium has achieved and Arch's sharp focus on capital conservation at present, this is the right time for us to transition away from the role of co-developer and towards the long-envisioned role of future user."
Arch Coal is currently in the process of restructuring after entering Chapter 11 bankruptcy earlier in the year under the weight of a US$6.5 billion load and a collapsing demand for coal in the US and key export markets, including China.
Despite this, Lighthouse and Arch appear to be committed to opening an export route for Powder River Basin (PRB) coal into Asia: "Lighthouse and Arch have pioneered an important development in Northwest infrastructure," said Bill Chapman, CEO of Millennium. "Their ongoing commitment demonstrates the strength of our project's long-term fundamentals."
"We look forward to completing the permitting process, beginning contraction and bringing much-needed jobs and trade to southwest Washington by connecting US coal exporters and the Asian markets," concluded Chapman.
Yet there remains key questions of the viability of US coal exports into Asia. Earlier this year, Wood Mackanzie's Research Director for Global Thermal Coal Markets, Andy Roberts, called the continued development of new coal export terminals on the Pacific Coast a "miscalculation".
"Successfully exporting low-cost coal from frontier regions, notably the PRB, to Asia requires producers to exploit one of two conditions," wrote Roberts in a blog post. "Either they must satisfy demand that Asian producers are unable to meet or they must outcompete Asian producers for their existing market. But Asian demand has weakened to the point that coal from frontier regions won't be needed for many years. To sell coal in Asia, therefore, PRB producers must now out-compete Indonesian producers for existing market. And in the new coal price paradigm, they cannot."
Edited by Jonathan Rowland.
Read the article online at: https://www.worldcoal.com/handling/27052016/arch-coal-sells-stake-in-millennium-terminal-2016-851/
You might also like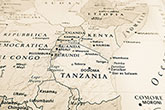 Edenville Energy Plc has provided an update on its Rukwa Coal Project in Tanzania.