Cooper Consolidated welcomes world's two largest AmClyde cranes
Published by Claire Cuddihy, Assistant Editor
World Coal,
---
The world's two largest AmClyde bulk cranes, Mr. Ervin and Hulk, have been upgraded and refurbished, and for the first time are working in the United States. As a result of acquiring these two colossal cranes, Cooper Consolidated LLC, the cranes' new owner and the state of Louisiana's premier bulk stevedoring service provider, have added an additional 30 million t of annual coal-loading capacity to its customer offering.
"The addition of these two new cranes, some of our industry's largest, strongest, and fastest, will further ensure that our team is always offering our customers the world's best bulk stevedoring experience," said Erik Cooper, Executive Director for Cooper Consolidated, LLC.
"Over the past seven years we've invested in a state-of-the-art, highly efficient crane fleet, and the addition of these two cranes is the capstone to that work."
Clyde MSB 16, christened
Hulk
, and Clyde model 37, christened
Mr. Ervin
, were built in Pascagoula, Mississippi by AmClyde and put into service in Santa Marta, Colombia in 2000 and 2004, respectively. Operating in Colombia until 2015, the cranes were acquired by Cooper Consolidated in November 2017 from Drummond Coal. Since that time, the cranes have undergone transformative upgrades and refurbishment in Darrow, Louisiana.
"The decision to bring America's largest AmClyde bulk cranes to the Mississippi River was one that was easily made knowing that as a result of the new cranes, our Cooper Consolidated team would be able to offer a high level of value for our customers that our market has never seen before," said Billy Fitzpatrick, Managing Director Sales & Logistics for Cooper Consolidated LLC.
The crane barges are 200 ft long and 75 ft wide. The bucket capacity is an astonishing 132 280 lb.
"Our team's goal is to consistently provide customers with the premiere stevedoring services in the world," said Wendell Landry, Managing Director Stevedoring Operations for Cooper Consolidated.
"Being the best in the world means offering the highest quality of service and the most efficient and safest cargo handling. To meet our high standards we had to develop the best crane fleet in the world. Mr. Ervin and Hulk, the world's largest AmClyde bulk cranes, are the latest additions to our state-of-the-art crane fleet."
Cooper Consolidated is the largest asset-backed stevedoring, barge, marine and logistics company operating in the ports of New Orleans, Baton Rouge, South Louisiana, and Plaquemines. With offerings that span the entire reach of the Lower Mississippi River between Southwest Pass and Baton Rouge, Cooper Consolidated's services are provided and directed by its own assets and employees, thereby providing customers with the most reliable and flexible service that can be achieved.
Read the article online at: https://www.worldcoal.com/handling/25012019/cooper-consolidated-welcomes-worlds-two-largest-amclyde-cranes/
You might also like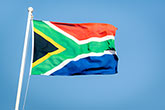 Black Royalty Minerals Koornfontein has signed Bettercoal's letter of commitment.