---
Total US coal distribution was 15.7% lower in 4Q15 that 4Q14, according to the latest US Energy Information Administration (EIA) Quarterly Coal Distribution Report. Coal shipments totaled 193.7 million short t, 36.2 million short t down on the previous year.
Of this, Wyoming accounted for 91.29 million short t of coal distribution – more than the following four coal origin states combined. Wyoming coal was delivered to 32 states. Texas accounted for the largest share of Wyoming's destination mix, taking 13.99 million short t, followed by Illinois (11.63 million short t) and Missouri (9.59 million short t).
West Virginia, Kentucky, Illinois and Pennsylvania completed the top five coal origin states with shipments of 14.38 million short t, 11.77 million short t, 10.82 million short t and 9.23 million short t, respectively.
Texas took the highest share of coal shipments, receiving 23.51 million short t of coal in 4Q15, followed by Illinois, Kentucky, Missouri and Indiana. Electric utilities were the largest recipient of coal, receiving about 93% of the total distribution.
The vast majority of coal was distributed via railroads, accounting for 69.4% of the total. River transportation accounted for 11.5% of distribution, 9.7% was distribution by truck, while tramway, conveyor and slurry pipeline accounted for about 9.4% of shipments.
Edited by Jonathan Rowland.
Read the article online at: https://www.worldcoal.com/handling/19082016/us-coal-distribution-down-15-7-in-5q16-2016-2275/
You might also like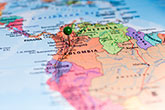 Benjamin Hill has entered into a nonbinding letter of intent with Aion to acquire interest in a Colombia coal project.