---
A new research paper from Australian reseachers at the ARC Centre of Excellence for Coral Reef Studies and the Australian Institute of Marine Science has raised concerns over the impact of a major shipping disaster on the Great Barrier Reef.
The researchers claim that coal dust in seawater could kill corals and slow down the growth rate of seagrasses and fish.
"Corals exposed to the highest concentrations of coal dust died within two weeks," said report author, Kathryn Berry, who led the research. "Corals exposed to lower concentrations of coal lasted longer, but most of them also died after four weeks of exposure."
Yet the risk to the Great Barrier Reef depends "on the probability of an accident", as well as the potential impact on marine life, said one of the report authors, Dr Andrew Negri, who also admitted that the likelihood of such a major spill was "low".
"The paper does not canvass the actual likelihood of a coal spill nor mentions the REEFVTS monitoring system," said Queensland Resources Council Chief Executive, Michael Roche, in response to the report. The REEFVTS surveillance system provides continues protection of the reef using technology similar to air traffic control systems.
"The implementation of REEFVTS has seen shipping incidents reduce from one a year to just one in the REEFVTS zone in well over a decade," Roche continued. There has never been a coal spill from a ship over the Great Barrier Reef.
Roche also pointed out the less than half of the traffic traversing shipping lanes in the reef region carried coal. "It would be worth asking the authors whether they propose to conduct similar simulation research on other products carried in ships through the reef, such as grain and sugar."
Edited by Jonathan Rowland.
Read the article online at: https://www.worldcoal.com/handling/17052016/coal-spill-would-hurt-coral-but-likelihood-low-2016-792/
You might also like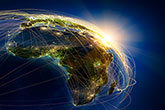 Contango Holdings Plc has advised that the production of washed coking coal has commenced at its flagship Lubu Coking Coal Project in Zimbabwe.