---
New coal export terminals on the Pacific Coast of North America were a "miscalculation", according to a new blog post from Wood Mackenzie's Andy Roberts, as the slump in global coal prices and contraction in Asian demand has made US coal unable to compete with regional suppliers.
"Three short years ago, the conventional wisdom was both that growing thermal coal demand in Asia couldn't be met by regional suppliers and that low-cost coal from the US would fill the breech," Roberts writes. "The intervening three years have made clear what a miscalculation that was. Opposition to major projects – Gateway Pacific, Millenium and Port Morrow – has been effective […] But as challenging as this was for port developers, the larger problem has been economic."
Roberts point out that over the past three years the cost advantage that coal from the Powder River Basin (PRB) enjoyed over Indonesian coal has disappeared to the extent that the delivered cost of Indonesian coal is now US$12 below that of PRB coal. Three years ago the roles were reversed: the delivered cost of PRB coal to Asia was US$20 below Indonesian coal.
The decline in competitiveness of US coal on the global market has seen US coal exports plummet over recent years to just 58.7 million short t in 2015 compared to a peak of 125.8 million short t in 2012, according to date from the US Energy Information Administration.
In addition to falling demand for coal and associated weakening of global prices on an oversupplied market, US exports have been particularly hit by the strong US dollar against other producer currencies – particularly the Australian dollar and Indonesian rupiah.
In a sign of the times, last year PRB-focused miner Cloud Peak Energy revised its shipping agreements with Canadian port, Westshore Terminals, and US rail operator, BNSF, to eliminate volume obligations for the period 2016 – 2018. As a result, Westshore said it expected coal throughput to drop to 26 million short t in 2016 from a forecast 30 million short t.
Edited by Jonathan Rowland. Read Andy Robert's full blog here.
Read the article online at: https://www.worldcoal.com/handling/17022016/planned-us-coal-terminals-now-irrelevant-2016-258/
You might also like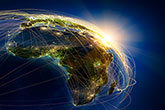 Contango Holdings Plc has advised that the production of washed coking coal has commenced at its flagship Lubu Coking Coal Project in Zimbabwe.