Locomotives and rail wagons for coal transport
---
Beacon Hill Resources, the AIM and ASX listed coal producer, has announced further progress with its logistics and rolling stock of the transportation of coking coal from the Tete coking coal fields to the Port of Beira, Mozambique.
Completion of locomotives and wagons which will enable the company to use its 0.5 million tpa allocation on the Sena line between Tete and Beira.
Five purpose built diesel locomotives (RL30SCC-3 ) completed by RRLGrindrod, South Africa.
90 purpose built open top rail wagons completed by Transnet Engineering, South Africa.
RRLGrindrod and Transnet Engineering delivery expected to arrive in Beira during Q1 2014.
Rowan Karstel, CEO of Beacon Hill commented:
"We are delighted to announce the completion of our purpose built locomotives and wagons, a key facet of our end-to-end logistics solution, as we move up through the gears targeting Tier One cash cost coking coal production from our Minas Moatize Mine in Tete, Mozambique. Our secured allocation on the Sena Line to Beira, which equates to 500 000 tpa or 7.7% of the total capacity (whichever is the greater) is a key differential for Beacon Hill, and the delivery of our rolling stock will enable us to capitalise on this important distinction for our Company. We look forward to providing further updates in the coming weeks as we take delivery of the locomotives and wagons."
Background
On 31st January 2013, Beacon Hill entered into a lease agreement with Thelo Rolling Stock whereby Thelo in conjunction with RRLGrindrod Locomotives and Transnet Engineering would provide five new Grindrod RL30SCC-3 diesel locomotives and 90 new Gondola-type rail wagons to transport coal on the Sena Rail line.
Beacon Hill has announced that the rolling stock has now been manufactured in South Africa and is undergoing the company's independent inspection regimes. The locomotives will be inspected and certified in South Africa by CFM in January before being transported to Mozambique. The locomotives will be taken to Mozambique via the existing rail networks in South Africa, Zimbabwe and Mozambique. The rail wagons will be loaded on a vessel in the Port of Port Elizabeth and shipped to Beira. Delivery of the locomotives and rail wagons to Mozambique is expected during Q1 2014.
The rolling stock will be used to transport Beacon Hill and other producers coal over 580 km from the Minas Moatize mine to Beira.
Rail operations
Beacon Hill Resources will operate two train sets on the Sena Rail Line, each consisting of two locomotives with 42 rail wagons each (each rail wagon loaded with up to 63 t of coal). The Interim Rail Access Agreement entered into between Beacon Hill and Portos e Caminhos de Ferro de Moçambique (CFM), allows the company to rail coal amounting to either 500 000 tpa or 7.7% of the capacity of the rail line (whichever is greater).
The Interim Rail Access Agreement will automatically renew each year until Beacon Hill Resources and CFM enter into a long-term take-or-pay agreement. In accordance with the Services Agreement that was entered into between MML and RRLGrindrod Train Operations on 10th June 2013, all the train crews and other personnel are operationally ready and in place in Mozambique. The train crews are fully accredited to operate in Mozambique after undergoing the necessary training for Mozamabique.
Further technical specifications
The five diesel locomotives are 3300 gross horse power, rated 290kN at 20 km/h. The locomotives are fitted with the renowned EMD 16-645 E38 engines of Electro Motive Division (General Motors), fully re-manufactured to EMD specifications by the National Railway Equipment Company in the USA. The locomotives are equipped with on-board computers and end-of-train devices.
The rail wagon design is an open-top type, multi-use wagon that will carry the coal to Beira. All rail wagons are fitted with self-steering Scheffel bogie systems and Association of American Railroads (AAR) compliant couplers, drawgears and direct-release air brakes.
Adapted from press release by Katie Woodward
Read the article online at: https://www.worldcoal.com/handling/16012014/coal_transport_update_beacon_hill_resources_410/
You might also like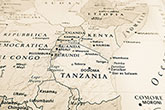 Edenville Energy Plc has provided an update on its Rukwa Coal Project in Tanzania.