Rail projects for coal exports achieve significant milestones
---
African Energy Resources (AFR) has advised that two major rail project relating to coal exports from Botswana have achieved important milestones. AFR's coal project in Botswana stands to benefit from these rail projects.
Botswana – South Africa rail link
Transnet Freight Rail (TFR) CEO, Siyabonga Gama, recently announced that a 105 km heavy-haul coal rail link between Botswana and South Africa will commence construction in 2015, as part of a R300 billion infrastructure investment programme initiated by TFR.
TFR has allocated approximately R40 billion for the construction of this line, which will link into existing coal heavy-haul railway lines and is aimed at transporting coal from Botswana to South Africa, to be used by state-electricity company Eskom, or to be exported via the seaborne market.
Gama stated: "We are finalising feasibility studies [and we] will start constructing the rail link in 2015, immediately after the completion of feasibility studies."
The rail line will be designed to carry between 40 – 80 million tpa of coal. Gama added: "We are planning to develop the Richards Bay Coal Terminal to support the expected [volumes] from Botswana and the Waterberg coalfield in South Africa."
Trans-Kalahari Railway
On 20 March 2014, an agreement was signed between the governments of Namibia and Botswana for the construction of the 1500 km heavy-haul Trans-Kalahari Railway (TKR). The estimated capital cost of the project is approximately US$ 10 billion and construction work is expected to last five years.
As part of this development, the Walvis Bay Commodity Terminal will be built with a capacity able to handle 65 million tpa of coal. The project is supported by both governments, and includes support from the Coal Development Unit in Botswana, as well as the appointment of a Namibian ministerial committee to ensure the project is delivered.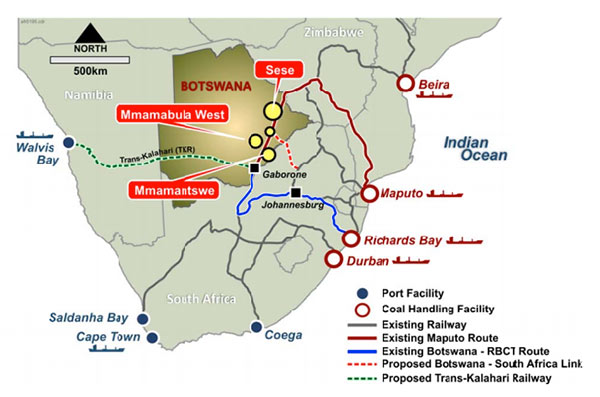 Rail routes showing existing routes from Botswana to east coast ports, and the proposed new heavy-haul lines.
Comments
The company issued the following statement:
"The development of these two heavy-haul freight corridors will complement the two existing cape-gauge corridors that are available for the export of coal from Botswana, and once operational will help ensure a free-market providing competitive rail tariffs to coal producers."
Edited from various sources by Katie Woodward
Read the article online at: https://www.worldcoal.com/handling/15042014/coal_rail_projects_in_botswana_727/
You might also like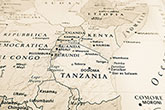 Edenville Energy Plc has provided an update on its Rukwa Coal Project in Tanzania.