---
Wood Mackenzie is forecasting global trade in thermal coal to fall by 40%, if global temperature rise is limited to 2°C. The study follows the ratification of the COP21 Paris Agreement by the US and China at the recent G20 Summit in China.
The research consultancy believes that thermal coal trade volumes will fall from an estimated 900 million t this year to 527 million t by 2035. The contraction could also have implications for thermal coal pricing, if it leads to market consolidation.
"Wood Mackenzie's proprietary modelling suggests seaborne import demand to shrink by 40% by 2035," said Prakesh Sharma, Research Director of Global Coal Markets at Wood Mackenzie. "Asia, Europe and the Americas will import 433, 80 and 15 million t, respectively, in 2035 from 673, 170 and 39 million t, respectively, estimated for 2016."
Sharma continues: "Although the impact on prices is hard to predict in a carbon-constrained world, they will undoubtedly will be lower. Wood Mackenzie's modelling suggests a sub US$50 per tonne FOB Newcastle (real terms) benchmark pricing post-2020. However, the market may well consolidate which could result in producers having more power over prices. Other factors such as a global price on carbon and greater demand for premium thermal coal could sharply increase supply costs which could also lead to higher prices."
Underpinning Wood Mackenzie's coal trade forecast is its analysis of the EIA's 450 Scenario. According to Wood Mackenzie, under this scenario a 2°C limit on temperature rise would result in a sharp reduction in the coal's share of the global generation mix from 41% in 2013 to just 15% in 2035.
"Thermal coal trade in a 2 degrees Celsius world looks very challenging," Sharma concluded. "Many unintended consequences for energy supply security, power generation costs and fuel prices may emerge that have not yet been evaluated nor integrated in corporate strategies and governmental plans despite the two major nation's formal ratification over the weekend."
Edited by Jonathan Rowland.
Read the article online at: https://www.worldcoal.com/handling/07092016/thermal-coal-trade-faces-challenging-outlook-2016-2385/
You might also like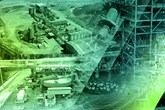 DRA Global has secured the contract for a major design package for Whitehaven Coal's Vickery Extension Project located in New South Wales, Australia.