---
Three key factors will decide the fate of the dry bulk shipping market this year, according to the latest market analysis from BIMCO: Chinese imports or coal and iron ore and the demolition rate.
"Nothing else really matters to an extent that can either improve or damage the fundamentals of the dry bulk shipping market," said Peter Sand, BIMCO's Chief Shipping Analyst.
Better than expected
And on the first two indicators, 2016 has been more positive than expected with Chinese iron ore imports growing by 6.4% to 155.8 million t in January and February. Coal imports fell over the same two months by 10% but picked up strongly in March to leave 1Q16 coal imports down only 1.2% y/y.
Iron ore imports also continued their positive trend in March, hitting 85.8 million t.
Unfortunately, the uptick in Chinese coal and iron ore imports has yet to have too much of an impact on the dry bulk shipping market with earnings remaining below operating costs for the largest part of the fleet, continued Sand.
The dry bulk fleet is also continuing to grow, despite record demolition rates. In 1Q16, 16.7 million DWT of new capacity entered the market while 14 million DWT was sold for scrap. For the full year, BIMCO expects the fleet to grow by 1.1% - or 10 million DWT.
Looking ahead, BIMCO expects volumes to grow over April – July to help underpin freight rates on the back of an expected volume of grain and soybean exports from Argentina and Brazil.
But clouds on the horizon
The medium-term outlook is however more clouded with BIMCO concerned that supply cuts may slow as the BDI improves. "If shipowners slow demolition of ships considerably, the fleet will keep growing. This will widen the fundamental imbalance further because we forecast the demand side to grow slowly in the coming years," said Sand. "In order to reverse several years of adding capacity in excess of demand growth, we need to develop a multi-year trend of negative fleet growth."
Of particular concern is the recently announced order of 30 VLOCs – each with a capacity of 400 000 DWT – for delivery between 2018 and 2019. This new batch of VLOCs will effectively remove 48 million tpy of iron ore from the open market and, with the current VLOCs, will account for over half of Brazil's iron ore exports to China.
"Without doubt this is bad news for international owners and operators," said Sand.
There are also questions over the Indian coal imports with Indian power minister, Piyush Goyal, saying the country could stop thermal coal imports over the next 2 – 3 yrs. India imported 176 million t of thermal coal in 2015 and SSY expects a similar level in 2016.
"Coal imports into India may change if the retained political vision of making India self-sufficient in thermal coal becomes a reality," said Sand. But "surely the jury is still out on that."
Edited by Jonathan Rowland.
Read the article online at: https://www.worldcoal.com/handling/06052016/mixed-outlook-for-dry-bulk-shipping-market-2016-732/
You might also like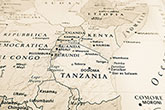 Edenville Energy Plc has provided an update on its Rukwa Coal Project in Tanzania.