Baosteel Meishan orders AUMUND rotary discharge machines for silo extraction
Published by Louise Mulhall, Editorial Assistant
World Coal,
---
In a determined move towards environmental protection in a variety of industries, open stockpiles are increasingly being replaced by covered longitudinal or circular storage halls or silos.
Following this trend, Baosteel Meishan is constructing 26 identical new coal silos, and has placed an order with AUMUND Fördertechnik GmbH for four rotary discharge machines to extract coal from the silos as well as two additional machines to extract coke from the covered coke storage.
The coal silos, each 21 m in dia. and 33 m tall, are arranged in two rows of 13. The machines which travel under these silos are designed with two discharge arms, permitting them to travel under all silos even if material is not being extracted.
The two other machines under the longitudinal storage for coke are of the same type, but will each have six discharge arms to maximise their service life. To combat the large amount of dust that is often produced when coke in particular is extracted, four of the machines will be equipped with the additional feature of a specially adapted dust suppression unit which sprays a fine mist of water to bind and control the dust.
As well as improvements in environmental protection, efficiency is another consideration which has led to the modernisation of the plant, as the high-volume silos take up the same surface area as the previous stockpile solution, but can hold four to five times as much material. "Over the past few years we have carried out optimisations of conveying systems for a range of customer requirements in the steel and energy producing industries", said Dr Rainer Bertling, Sales Director of the Metallurgy Division at AUMUND Fördertechnik.
Read the article online at: https://www.worldcoal.com/handling/05092017/baosteel-meishan-orders-aumund-rotary-discharge-machines-for-silo-extraction/
You might also like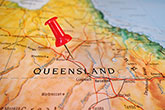 CIMIC Group's minerals processing company, Sedgman, has secured an operations and maintenance contract in the Bowen Basin, Queensland, from Pembroke Resources.