---
Jameson Resources has awarded the first work towards drafting an application for an EA certificate for the Crown Mountain metallurgical coal project, located in the Elk Valley coalfield in south eastern British Columbia, Canada.
Dillon Consulting will now commence developing an outline and organisational plan for the application. This work will be performed concurrently with several environmental field activities this summer at Crown Mountain.
Jameson is at an advanced stage with the application information requirements (AIR), which Dillion has been instrumental in developing. The AIR represents the final internal guidance document of the pre-application stage of the EA process. The British Columbia Environment Assessment Office (EAO) is reviewing the latest version of the AIR.
The project development scheduled contained in the Crown Mountain PFS update projected the EA application would be completed over approximately a year, contingent on executing the required tasks and adequate funding, The company's recent CAN$2.6 million placement has enabled Jameson to commence this process.
Read the article online at: https://www.worldcoal.com/exploration-and-development/28062017/jameson-awards-initial-preparation-of-application-for-ea/
You might also like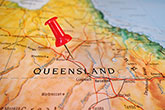 CIMIC Group's minerals processing company, Sedgman, has secured an operations and maintenance contract in the Bowen Basin, Queensland, from Pembroke Resources.