---
Paringa Resources Ltd has successfully amended its coal sales contract with Louisville Gas and Electric Co. and Kentucky Utilities Co. (LG&E and KU) following the company's recent change in strategy, which will see the low CAPEX Buck Creek No.2 mine developed first, ahead of the Buck Creek No.1 mine's proposed 3.8 million tpy coal project.
In October 2015, Paringa signed a coal sales agreement with LG&E and KU to deliver coal from the No.1 mine. In February 2016, the company decided to develop the No.2 Mine first after it attained exceptional results from a scoping study, which demonstrated the No.2 mine to be a high margin 1.8 million tpy mine with low CAPEX of only US$44 million.
As a result, the amended cornerstone coal sales agreement with LG&E and KU now reflects delivery of coal from the No.2 mine. The amended contract is on substantially the same terms as the original contract. Most importantly, coal volumes and coal specifications remain unchanged. Fixed sale prices have changed slightly to reflect recent sales data, and the project development milestones and delivery schedule have been updated for the No.2 mine.
Under the amended coal sales agreement, Paringa is contracted to deliver a total of 4.75 million t of its 11 200 btu/lb product over a 5-yr period, starting in 2018. Paringa reported that 60% of No.2 mine's annual production during the 5 yr sales agreement is now contracted with LG&E and KU, significantly de-risking the project for potential financiers.
The amended contracted fixed coal sales prices for Paringa's 11200 btu/lb coal spec begins at US$40.50/t for the first 750 000 t of coal delivered to LG&E and KU, increasing to US$45.75/t for the final 1million t sold.
Commenting on the revised contract, Paringa's President and CEO,David Gay, said: "We are extremely pleased to formalise the transition of our coal sales contract from the No.1 mine over to the No.2 mine. The fact that LG&E and KU are prepared to sign this major amendment to our sales contract confirms their belief that we will become a significant new source of production in the Illinois Basin and confirms the quality of the No.2 mine. We are progressing rapidly with our bankable feasibility study on the No.2 mine and have already identified significant reductions in our operating and capital costs, which have the potential to increase the value of the project considerably."
Paringa is expected to start construction of the No.2 mine during 2Q17, begin production by mid-2018, and reach full production of 1.8 million tpy during 2019.
The amended LG&E and KU agreement includes standard project development milestones that are in line with the proposed Buck Creek No.2 mine construction programme.
Edited from press release by Harleigh Hobbs
Read the article online at: https://www.worldcoal.com/exploration-and-development/23052016/paringa-amends-coal-sales-contract-with-lge-and-ku-825/
You might also like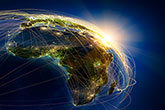 Contango Holdings Plc has advised that the production of washed coking coal has commenced at its flagship Lubu Coking Coal Project in Zimbabwe.