---
The directors and management of Strata-X Energy Ltd. have given an update on the drilling operations of CSG well 19B-1, the first well in a 100% owned tenement located within the company's interpreted high graded area of the Botswana CSG fairway.
The 19B-1 well has reached a total depth of 474 m. Several coals seams were intersected with gas bubbling out of the cuttings at surface. Wireline logging and a final short term flow test will be carried out in the coming days. The well and drilling program will be suspended while the company carries out an internal review of future best drilling practices and identifies solutions to minimise future delays.
In addition to conventional wireline logging methods, a borehole magnetic resonance (BMR) logging program will also be carried out. This method, once calibrated and processed, may be used to estimate the gas content and permeability of the target coals. To calibrate the BMR logging, this well was drilled approximately 2.5 km from a fully-cored well drilled by the government of Botswana in 2003.
That core hole had intersected bright coals with gas saturations up to 100%. Strata-X believes that successful calibration of the BMR logging method for the target coals will reduce the number of expensive fully-cored drill holes, plus the months required to finalise the results of each core hole allowing fast tracking and substantially reduced costs for future reserves certifications.
Well results along with the calibration of the BMR logging will be integrated into the current data set with the goal to pursue a resource upgrade and, if warranted, the long term production testing of this well. The final results should be available in April 2019.
If a production test is warranted, the BMR results will be integrated into the design of a production testing program. This production testing program will include completion of the well, installation of downhole and surface equipment plus construction of a water handling pond.
Commenting on reaching total depth of the first potential production well in Strata-X's high graded area over the Botswana CSG fairway, Ron Prefontaine, Strata-X's chairman stated:
"I am pleased to report that despite having encountered a number of operational and logistical issues, primarily due to the remote location and a new operating environment in Botswana, our team successfully finished drilling our first well. Cost overruns are estimated to be about USD$45 000 over the pre-drill cost. I believe the extra expense and extra time spent on this first well will pay dividends in future Serowe CSG Project operations. In particular, the knowledge gained along with new relationships nurtured, the company is now confident we can drill low cost and timely wells when we appraise and develop our interpreted high graded area over the Botswana CSG fairway."
Read the article online at: https://www.worldcoal.com/exploration-and-development/22032019/serowe-csg-project-strata-x-19b-1-reaches-total-depth/
You might also like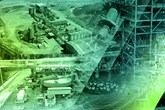 DRA Global has secured the contract for a major design package for Whitehaven Coal's Vickery Extension Project located in New South Wales, Australia.