---
Paringa Resources has announced the discovery of an additional major coal seam at its Poplar Grove mine at the Buck Creek Complex in Kentucky, calling it a "game changer" for the company.
The discovery of the WK No. 11 coal seam above Poplar Grove's WK No. 9 seam provides the company with the opportunity to significantly increase capacity with minimal additional CAPEX. Paringa will now undertake further drilling to complete the geological model of the mine and assess the potential for a two-seam operation.
"This discovery reinforced that Buck Creek is undoubtedly the best undeveloped thermal coal project in the US," said Paringa's President and CEO, David Gay. "The addition of the WK No. 11 seam at Poplar Grove significantly enhances Paringa's strategy of undertaking staged, low-CAPEX mine developments to ultimately become the next major Illinois Basin coal producer."
Current capacity at Poplar Grove is forecast to be 1.8 million t from the WK No. 9 seam. The discovery of the WK No. 11 seam in close proximity to WK No. 9 could see this increase significantly, however, with the potential to access WK No. 11 from the planned WK No. 9 mine works.
Alliance Resources' nearby River View operation mines both WK No. 11 and No. 9 seams and processes the ROM coal through one coal processing facility, as both seams have similar coal qualities. The River View mine is one of the most productive underground room-and-pillar coal mines in the US.
In addition to the discovery of the additional seams, Gay said Paringa was seeing "significant improvements in the US thermal coal market with natural gas prices almost doubling for their March lows, widespread evidence of higher long-term contract prices and significantly improved general investor sentiment for thermal coal in the US."
"This is the most exciting time to be funding the best undeveloped thermal coal project in the US and we will continue to focus on the most optimal way to bring Poplar Grove into production," concluded Gay.
Read the article online at: https://www.worldcoal.com/exploration-and-development/20102016/additional-coal-seam-discovered-at-poplar-grove/
You might also like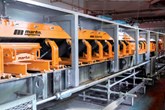 A global leader in bulk handling accessories and safety, Martin Engineering, is expanding its presence in the Asian Pacific market by opening a business unit in Malaysia.