---
Jameson Resources continued to focus exclusively on the environmental assessment (EA) for its Crown Mountain metallurgical coal project in British Columbia, Canada, as the company strove to conserve its cash reserves in 1Q16.
Project related spending was AUS$93 000 – a multi-year low – as the company also reduced administrative costs by 20% on the same quarter in 2015. In contrast, the company spent AUS$330 000 on exploration and evaluation work in 1Q15.
Project spending for the nine months to the end of March now totals AUS$629 000 compared to AUS$2.2 million over the same period a year ago.
The Crown Mountain project continues in the pre-application stage of the EA process. To government agencies are involved in the process: the federal-level Canada Environmental Assessment Agency Office and the state-level British Columbia Environmental Assessment Office.
No work was undertaken at the company's Dunlevy project during the quarter, although Jameson said it intended to retain the project and would resume exploration and evaluation work "when market forces warrant such action."
Meanwhile, the company's coal applications for its Graham River, Carbon East and Peace Reach projects in northern British Columbia were revoked by the state government after the government agreed with three First Nation bands to create additional Coal Land Reserves – areas on land in which future coal mining in prohibited. The company will receive a full refund of its pre-paid rent for the affected applications.
As at 31 March, the company said it had AUS$2.1 million in cash and equivalents with no debt – unchanged from the previous quarter.
"Management continues to position the Crown Mountain project to be ready to take advantage of a market recovery," the company said. "This activity is balanced against the need to minimise spending and conserve cash. The board diligently monitors Jameson's cash activities in light of market conditions and will from time-to-time act to adjust the current strategy as it deems appropriate."
The company also said that further cost reductions should be expected through the current quarter and for the rest of the year.
Edited by Jonathan Rowland.
Read the article online at: https://www.worldcoal.com/exploration-and-development/20042016/jameson-focuses-on-conserving-cash-2016-239/
You might also like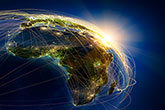 Contango Holdings Plc has advised that the production of washed coking coal has commenced at its flagship Lubu Coking Coal Project in Zimbabwe.