Edenville Energy MK2 sampling results confirm coal suitability as power plant feed
Published by Harleigh Hobbs, Editor
World Coal,
---
Edenville Energy plc, the company developing an integrated coal to power project in western Tanzania, has announced the first set of results the company has received from SGS Laboratories in relation to the recent bulk sampling programme carried out on the Mkomolo and Namwele deposits.
The results from seam MK2 confirm the coal is suitable for use in thermal power generation and this data will form a crucial part of the process going forward to design and construct a coal fired power plant at the Rukwa project site.
Both raw and washed values indicate the coal is suitable for power generation purposes and any washing of the coal will primarily be to optimise and maximise the technical and economic parameters.
This coal is accessible at surface, which will result in both low mining costs and the deposit being able to be opened up in a short timeframe.
Additionally, the results are consistent with the company's recently completed resource technical assessment as announced on 1 November 2016, to determine the available coal resources for an expanded project greater than 120 MW. Subsequent to the wash results, Edenville can now confirm the suitability of this coal to provide a sustained and reliable fuel supply to a power plant project. Combined with the recent analysis carried out on available coal resources, it can now provide a high degree of validation around the coal deposit at Rukwa.
Further test results on the other Mkomolo near surface coal seam are expected shortly.
Rufus Short, CEO of Edenville, commented: "We are extremely pleased and encouraged with the test results to date. The results show and confirm suitable coal quality and very high yields will be available for the Rukwa coal to power project and give us great confidence in the economic viability of our coal deposit to produce power for Tanzania. Importantly, the results indicate we can maximise the value of the in-situ coal and there will only be moderate treatment costs incurred to prepare the coal for use in the power generation process. This is likely to have a positive flow through impact on all areas of the mining operation, enabling the project to maximise its economic potential and minimise both capital and operating costs for the mine."
Read the article online at: https://www.worldcoal.com/exploration-and-development/16112016/edenville-energy-mk2-sampling-results-confirm-coal-suitability-as-power-plant-feed/
You might also like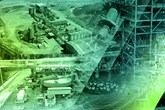 DRA Global has secured the contract for a major design package for Whitehaven Coal's Vickery Extension Project located in New South Wales, Australia.