---
The directors and management of Strata-X Energy Ltd. have provided an update on the Serowe Coal Seam Gas Project in Botswana.
Strata-X is currently reviewing drilling proposal from DWD Drilling Technologies Pty Ltd. Agreement execution expected in two weeks.
Coring operations, subject to rig availability, expected to commence in eight weeks.
Strata-X has appointed Weatherford Labs to analyse the core.
Surface area rights have been approved in advance of the coring operation.
Strata-X has formed Rhino CBM Pty Ltd and permits have been transferred to it by MPE.
The directors and management of Strata-X Energy Ltd. are pleased to provide an update on the Serowe Coal Seam Gas Project in Botswana. As announced previously, the company has farmed into approximately 273,000 acres in the Kalahari Basin CSG Fairway and has the opportunity to achieve a 75% working interest in the project, which has an estimated 1.045 Tcf (1075PJ) of recoverable Prospective Resources net to the company's interest.
The estimated quantities of petroleum that may potentially be recovered by the application of a future development project(s) relate to undiscovered accumulations. These estimates have both an associated risk of discovery and a risk of development. Further exploration appraisal and evaluation is required to determine the existence of a significant quantity of potentially moveable hydrocarbons.
Rhino CBM Pty Ltd. (100% owned) has been established and is now the registered holder of the exploration permits after they were transferred to it from MPE. Rhino will be the operator of the Serowe Coal Seam Gas Project.
Coring and other services have been secured and a drilling contract is expected to be executed within two weeks. It is anticipated that operations to core approximately 150 m will commence on the NWB-352-1-W005 core hole within the next eight weeks,'subject to rig availability. The core will be handled and analysed by Weatherford Labs.
Surface Access Rights have been approved for the upcoming coring operations and other subsequent work. All other government approvals and notices have been obtained or are expected shortly.
The NWB-352-1-W005 core hole is a condition of the Phase 1 farm-in with MPE and is fully funded. After the results of the core hole have been evaluated, the company intends on drilling, coring and production testing an additional well to evaluate the prospectivity of the Serowe Gas Fairway.
Prospective Resources figures are from an audit report prepared by MHA Petroleum Consultant dated 26 October 2016 following their audit of the available technical data including the geological interpretation, information from relevant nearby wells, analogous reservoirs and the proposed program for the Project, prepared and presented to MHA by Strata-X. There is no certainty that stated resources will be commercially viable to produce any portion of the resources. A high level of uncertainty exists with the Prospective resources given the lack of historical drilling, available data and other productivity factors that limit the economic viability of coal seam gas deposits. The Report reviewed only Prospective Resources as the project is not sufficiently developed to assign Contingent Resources or additional Petroleum Reserves to it. Stated Prospective Resource figures are Best Estimate -- undiscovered natural gas quantities and net of a 6% royalty and are shown at a 75% working interest in the Project that Strata-X will only earn upon completing the farm-in program. The total costs associated with establishing the commerciality of this project are unknown at this time given the early stage of the Project's development. For additional information see Strata-X November 2016.
Read the article online at: https://www.worldcoal.com/exploration-and-development/13042017/significant-progress-achieved-at-serowe-project/
You might also like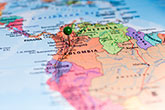 Benjamin Hill has entered into a nonbinding letter of intent with Aion to acquire interest in a Colombia coal project.