Adani Mining welcomes groundwater management plan approval for Carmichael project
Published by Stephanie Roker, Editor
World Coal,
---
The CEO of Adani Mining, Lucas Dow, has issued the following statement:
"We welcome the Minister for the Environment's approval of the groundwater management plans for the Carmichael coal mine and rail infrastructure project.
This approval follows more than 18 months of consultation with the Department, and the independent evaluation and endorsement of the plan by CSIRO and Geoscience Australia.
"The independent evaluation and endorsement by CSIRO and Geoscience Australia verifies that the measures outlined in the plans will ensure groundwater at the mine, and the ecosystems that depend on it, are protected.
"The Groundwater Dependent Ecosystems Management Plan and the Groundwater Management and Monitoring Plan detail all the activities we will undertake and safeguards we will implement to ensure that we meet the approval conditions for the mine relating to groundwater. This includes a network of more than 100 monitoring bores to track underground water levels.
"The plans will ensure we achieve sustainable environmental outcomes and we're now looking forward to delivering the thousands of jobs our project will create for people in North and Central Queensland.
"Throughout the past 18 months, the Federal Department provided us with certainty of process and timing, including the steps involved in the independent review by CSIRO and Geoscience Australia experts.
"In contrast, the Queensland Government has continued to shift the goal posts when it comes to finalising the outstanding environmental management plans for the mine and is standing in the way of thousands of jobs for Queenslanders.
"It's time the Queensland Government gave us a fair go and stopped shifting the goal posts so we can get on with delivering these jobs."
Read the article online at: https://www.worldcoal.com/exploration-and-development/10042019/adani-mining-welcomes-groundwater-management-plan-approval-for-carmichael-project/
You might also like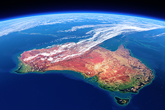 Simon Nicholas overviews a new report by IEEFA India and JMK Research and Analytics, which demonstrates why Australian metallurgical coal miners should not get overexcited by the outlook for exports to the subcontinent.