---
Tlou Energy Limited, the AIM and ASX listed company focused on delivering power in Botswana and southern Africa through the development of coal bed methane (CBM) from its Lesedi Project has announced the results of a report completed by SRK Consulting (Australasia) Pty Ltd (SRK) on existing Aeromagnetic data which has provided critical data for future Reserves assessments and field development.
Aeromagnetic report received from SRK
Tlou engaged SRK to undertake re-processing and re-interpretation of aeromagnetic geophysical data over the company's Lesedi and Mamba Projects in Botswana. This has resulted in a series of new geophysical images for the projects. The purpose of this work was to provide an updated geological/structural model of the Tlou Project areas and support future gas Reserve assessments. This geological work is extremely important as it is increasing Tlou's knowledge of the CBM properties of the Lesedi and Mamba project areas and will provide important inputs to future Reserves assessments and field development. A structural interpretation has been made and depth to basement mapping undertaken.
The key conclusions are:
The local structure is characterised by the presence of highly magnetic sills and dykes composed mainly of dolerite.
Although these intrusive bodies have been intersected in many wells, they have minimal negative impact on gas production or coal continuity.
The observed local structure conforms to the trends in aeromagnetic geophysical images.
Coal continuity and occurrence will be clarified by the acquisition of new 2D seismic data.
The integration of new 2D seismic data and selected coreholes with the current reprocessed aeromagnetic dataset will provide the potential to further clarify structural trends as well as constrain coal seam continuity and quality variations.
Updated project montages have been included as an appendix to this announcement, and are available on the company's website at
http://tlouenergy.com/investor-centre.
Read the article online at: https://www.worldcoal.com/exploration-and-development/09032017/tlou-energy-reports-resultsofsrk-report/
You might also like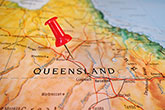 CIMIC Group's minerals processing company, Sedgman, has secured an operations and maintenance contract in the Bowen Basin, Queensland, from Pembroke Resources.