Georgia Power requests proposals for reuse of stored coal ash from closed ash ponds
Published by John Williams, Editorial Assistant
World Coal,
---
Georgia Power has announced it is requesting proposals for the beneficial reuse of coal ash stored at active and retired coal-fired power plants across the state. While Georgia Power already recycles more than 75% of the dry coal ash it produces from current operations, the company is seeking to identify opportunities for the beneficial reuse of stored coal ash.
"The request for proposals will allow Georgia Power the potential to expand our efforts in the recycling of coal ash, while continuing to permanently and safely close all of our ash ponds around the state," said Mark Berry, Vice President of Environmental & Natural Resources for Georgia Power. "Today, most of the coal ash Georgia Power produces is recycled for various beneficial uses, such as Portland cement, concrete and cinder blocks, and we are committed to seeking new beneficial reuse opportunities for the coal ash stored at our active and retired plants across the state."
Coal ash has been demonstrated to provide significant value to certain products, such as concrete, in which it adds strength and durability. Opportunities for beneficial reuse of stored coal ash could help produce millions of tons of Portland Cement, concrete and other products, which would also reduce the need for raw materials otherwise used in production.
Georgia Power first announced its plans to permanently close all of its ash ponds in September 2015, with initial plans released in June 2016. Georgia Power's ash pond closure plans fully comply with the federal Coal Combustion Residual (CCR) rule, as well as the more stringent requirements of Georgia's state CCR rule. Georgia was one of the first states in the country to develop its own rule regulating management and storage of CCR such as coal ash.
The state rule, which goes further than the federal rule, regulates all ash ponds and landfills in the state and includes a comprehensive permitting programme through which the Georgia Environmental Protection Division will approve all actions to ensure ash pond closures are protective of water quality.
Read the article online at: https://www.worldcoal.com/exploration-and-development/09012020/georgia-power-requests-proposals-for-beneficial-reuse-of-stored-coal-ash-from-closed-ash-ponds/
You might also like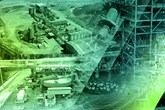 DRA Global has secured the contract for a major design package for Whitehaven Coal's Vickery Extension Project located in New South Wales, Australia.