---
The giant Carmichael coal project in Queensland has moved a step closer to reality with the approval of the mining leases by the state government. The state Minister for State and Development and Minister for Natural Resources, Dr Anthony Lynham, approved three individual mining leases covering an area about 160 km northwest of Clermont.
"This is a major step forward for this project after extensive government and community scrutiny," said Queensland Premier Anastascia Palaszczuk.
The Carmichael project includes thermal coal mine, railway and export port facilities at Abbott Point and is being development by Indian industrial conglomerate, Adani. At peak capacity, the mine would produce 60 million tpy of thermal coal.
"Some approvals are still required before construction can start and ultimately committing to the project will be a decision for Adani," continued Palaszczuk. "However, I know the people of north and central Queensland will welcome this latest project for the potential jobs and economic development it brings closer for their communities."
The 70441 Carmichael, 70505 Carmichael East and 70506 Carmichael North leases are estimated to contain 11 billion t of thermal coal. The granting of the leases allows mining and development of related infrastructure, such as haul roads, buildings, workshops, power lines and workers' camp. According to Adani, the integrated mining, rail and port project will generate more than 5000 jobs during construction and more than 4500 during operation.
"My decision to approve these leases is tangible evidence of the Palaszczuk government's commitment to the sustainable development of the Galilee Basin for the thousands of jobs and economic development it will create," said Dr Lynham, adding that the project now had 19 permits and approvals at local, state and federal level.
A number of other steps are still to be completed, however, before construction can begin. According to Dr Lynham, these include secondary approvals for rail, port facilities, power, water, roadworks and the airport and a financial assurance agreement with the Queensland Department of Environmental and Heritage Protection.
"The independent coordinator-general will continue to work with Adani to progress the project," Dr Lynham concluded.
Edited by Jonathan Rowland.
Read the article online at: https://www.worldcoal.com/exploration-and-development/04042016/carmichael-project-mining-leases-approved-2016-515/
You might also like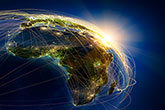 Contango Holdings Plc has advised that the production of washed coking coal has commenced at its flagship Lubu Coking Coal Project in Zimbabwe.