---
Canadian Pacific (CP) rail conductors and locomotive engineers have reached a tentative agreement on a new contract, ending a day-old strike that delayed shipments of coal, fertilizer, crude and chemicals.
Members of the Teamsters Canada Rail Conference-Train & Engine went on strike at 10 pm ET on 29 May after they could not reach an agreement on a new contract with CP's management. The railroad was forced to shut its Canadian operations.
Operations should resume on 31 May at "6 am local time across Canada," the Teamsters said. CP did not address when trains would start moving again.
Some shippers said that managers were moving trains in and out of customers' yards, likely to allow for loading and unloading while operations were paused.
Details of the agreement will be presented to the TCRC membership for ratification. Approximately 3000 engineers and conductors are represented by the TCRC.
"This is a positive result for our TCRC employees and their families, the 12 000-strong CP family, our customers and the entire Canadian economy," said Keith Creel, CP President and CEO. "It is especially meaningful to achieve a four year tentative agreement with our valued locomotive engineers and conductors, providing long-term stability for all parties involved. This is a significant step toward a renewed positive relationship growing forward together serving our customers and the Canadian economy."
"We have had the discussion that needed to take place. This is a solid step in re-establishing a positive business relationship and moving forward," said Doug Finnson, President TCRC.
Both parties wish to acknowledge the efforts of the Federal Mediation and Conciliation Services throughout this process.
CP and the union have agreed on a new four year contract. Details will be presented to members before being publicly released.
Union members must ratify the new agreement. The last contract proposal failed to win sufficient support among union members during an 18 - 25 May vote held by the Canada Industrial Relations Board. Members of the International Brotherhood of Electrical Workers (IBEW) also rejected a contract proposal in that vote.
On 29 May, IBEW agreed to a tentative three year deal, which must also be voted on.
Shippers had started to worry about delays. British Columbia-based Teck Resources, the largest metallurgical coal producer in Canada, said it planned to stockpile metallurgical coal at its mines served by CP to keep its facilities operating, the company said.
CP transports primarily coal from mines to export facilities in western Canada and to steelmakers and metallurgical coke producers in the Great Lakes region of the US. Nearly 90% of CP's coal shipments are made up of metallurgical coal coal.
CP transported 78 000 carloads of coal in the first three months of the year, an earnings report shows.
Read the article online at: https://www.worldcoal.com/coal/31052018/cp-rail-workers-end-strike-agreement-reached/
You might also like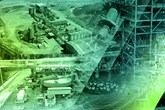 DRA Global has secured the contract for a major design package for Whitehaven Coal's Vickery Extension Project located in New South Wales, Australia.