---
Polo Resources' subsidiary, Polo Investments, has entered into a secured SGD5 million redeemable convertible note with Universal Coal Resources, providing funds for Universal to acquire an indirect 75% interest in PT Transcoal Minergy Coal Project (TCM).
TCM is an Indonesian company and owner of a mining licence for a mining concession area in South Kalimantan, Indonesia. The TCM Coal Project is focused on development a 2 million tpy underground mine, producing 6200 kcal/kg GAR bituminous coal.
The project's current JORC resource is 129 million t located in the southern area of the concession although further drilling the northern area of the mining concession may increase the resource base.
TCM's production permit extends to April 2028. A full final feasibility study and forestry approval is sill required before mine development can be started. The project will use existing coal transportation infrastructure, including a 50 km haul road to the major coal river port at Batulicin.
The funding will also allow Universal to progress its targeted listing on the Singapore Stock Exchange Catalist Board.
Under the terms of the note, Polo may convert any outstanding principle and interest on the note into an equity stake in Universal at any time up to 18 months from drawdown or upon receipt of approval in principle to list. Unless converted, the note is repayable 18 months from drawdown.
Universal Coal Resources and Pan Asia Corp. originally announced an agreement tor Universal to buy Pan Asia's stake in TCM last June for SGD30 million. On May 9 2016, Pan Asia said it had agreed to take a stake in Universal Coal on completion of its Singapore listing valued at SGD30 million as payment for its stake in TCM.
Universal Coal Resources is incorporated in Singapore and is unrelated to ASX-listed Universal Coal Plc.
Edited by
Jonathan Rowland
.
Read the article online at: https://www.worldcoal.com/coal/31052016/polo-invests-in-universal-coal-resources-2016-864/
You might also like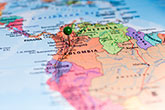 Benjamin Hill has entered into a nonbinding letter of intent with Aion to acquire interest in a Colombia coal project.