---
Coal mining, coal terminals and unregulated power generation are most exposed to environmental risk, according to a new report from Moody's Investors Service.
The report highlights eleven sectors with a round US$2 trillion in rated debt as "immediate, elevated risk" or "emerging, elevated risk" in terms of their credit exposure to environmental risks. Moody's places environmental risk into two broad catagories: the effects of environmental hazards and the consequences of regulation designed to prevent or reduce these hazards.

Source: Moody's Investors Service
Coal-fired power
"In contrast to their regulated peers, unregulated power and utility companies are directly exposed to the market impacts of environmental regulations," said Moody's. "By and large, coal plants most vulnerable […] however there are regional differences in relative fuel prices, regulations, subsidies and incentives."
Coal-fired power is particularly at risk in the US, owing to a combination of low natural gas prices and air pollution regulations, continued the ratings agency noting that "emerging carbon regulations are expected to strengthen these trends."
Coal mining
"Although not the most immediate driver of ratings downgrades, environmental risks are nevertheless contributing to downward pressure on [coal mining] ratings," said Moody's, pointing to the fact the environmental concerns are reducing demand for coal, for example in China and the UK.
This is also strengthening the perception that the current pricing trough will remain for the foreseeable future, further raising the level of risk in the sector.
US coal mining companies are at particular risk due to the combined pressures from plentiful and cheap gas supplies and extensive regulatory action against coal-burning plants, including the Clean Power Plan, which will "lock the coal industry in a secular decline over the next decade."
Coal terminals
On the coal terminals front, Moody's points to the increased risk that long-term contracts will need to be renegotiated as producers' costs escalate and demand drops. Risk is particularly severe for terminals that serve thermal coal mines compared to those that ship metallurgical coal, due to the lower substitution risk for metallurgical coal in the steelmaking process.
"Environmental risks are not seen to be most immediate driver for ratings downgrades in the sector. However, environmental risks are exacerbating the pressures exerted by the very weak coal market conditions," concluded Moody's. "The long-term secular trend in the thermal coal sector will reduce the coal terminals' ability to deleverage over time, in the absence of sponsor support."
Edited by Jonathan Rowland.
Read the article online at: https://www.worldcoal.com/coal/30112015/coal-sectors-most-in-jeopardy-from-environmental-risk-3223/
You might also like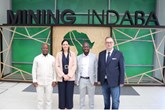 Continuing a spate of new global enrolments, the World Coal Association (WCA) has welcomed South African mining investor, Menar, to its roster of progressive coal members.