---
According to a new study from Duke University, Appalachian coal could be a new source of rare earth elements. Taking samples of coal ash from Midwest power plants, researchers found that Appalachian coal contained the highest amount of rare earth elements at 591 mg/kg.
Coal from the Powder River Basin and Illinois Basin contained 403 mg/kg and 337 mg/kg respectively.
But when researchers used a common industrial extraction technique – dissolving it nitric acid – to remove the rare earth materials from the coal, Appalachian coal saw the lowest extraction percentages with PRB coal recording the highest.
An enhanced extraction technique – "roasting" with an alkali agent before dissolving it in nitric acid – showed a marked improvement in extraction efficiency – but would be expensive to use on an industrial scale.
"For any future venture to begin an extraction programme, the recovery method will need to be tailored to the specific chemistry of the coal ash being used," said Prof. Heileen Hsu-Kim of Duke University.
"The trick will be exploring our options and developing technologies to drive the costs down. That way we can tap into this vast resource that is currently just sitting around in disposal pond, Prof. Hsu-Kim concluded.
Edited by Jonathan Rowland.
Read the article online at: https://www.worldcoal.com/coal/30052016/appalachian-coal-shows-promise-for-rees-2016-855/
You might also like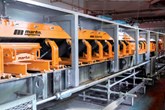 A global leader in bulk handling accessories and safety, Martin Engineering, is expanding its presence in the Asian Pacific market by opening a business unit in Malaysia.