---
The plan by monopoly rail operator Aurizon to introduce a revised maintenance plan will slash coal exports by AUS$4 billion/y and cut royalties used to pay for State Government services and infrastructure by a staggering AUS$500 million/y.
Queensland Resources Council (QRC) Chief Executive, Ian Macfarlane, said the new Aurizon maintenance plan for the Central Queensland Coal Network would have double the impact on the resources industry and its capacity to export and return royalties to Queenslanders than Severe Tropical Cyclone Debbie that crossed the coast 12 months ago (28 March).
"Financial analysts, Macquarie Research, have already dubbed the Aurizon maintenance plan – that will cut coal throughput by 20 million tpy for four years – as 'Cyclone Aurizon' because of the havoc it will create for the industry and the Queensland economy," he said.
"Aurizon's planned action would have double the punch of Debbie on our industry, on our regions and our State. The loss of AUS$500 million in royalties alone is equivalent to the wages for 7388 teachers or 7430 nurses. With our population increasing to five million in May, Aurizon will cost every Queenslander AUS$100/y for the next four years.
"The damage to our export performance is also of great concern. The Central Queensland Coal Network is Australia's largest export coal rail network. The resources sector accounts for more than half of Queensland's growing goods and services exports."
Macfarlane said he welcomed the Queensland Competition Authority's (QCA) request for further information from Aurizon Network about its changed maintenance practices.
"The QRC and its members will provide the Queensland Competition Authority with information to avoid the damage across the Queensland economy from this plan that could only be described as 'economic sabotage'," Macfarlane noted.
Releasing the QRC's State of the Sector report today, Macfarlane said the Aurizon threat came at a time when Queensland and the Palaszczuk Government could expect a stronger performance from the resources sector in employment, trade and royalties.
"The QRC's Production Volume Index for the September 2017 quarter has increased by 14 points to 117. This is the highest level since December 2016 quarter and the largest quarterly increase in the Index over four years (since June 2013 quarter).
"Before Christmas, the Palaszczuk Government revised upwards royalties by AUS$806 million for 2017 - 2018 to 2020 - 2022. The Government has projected it will receive AUS$3.7 billion from royalties this financial year."
Read the article online at: https://www.worldcoal.com/coal/28032018/aurizons-maintenance-plan-sees-coal-exports-slashed-and-royalties-cut/
You might also like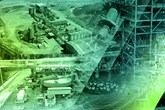 DRA Global has secured the contract for a major design package for Whitehaven Coal's Vickery Extension Project located in New South Wales, Australia.