---
Government support of domestic lignite-power projects will be the key factor in limiting growth in Turkey's coal imports, according to Dr Sirri Uyanik, CEO of Isken coal-fired power plant. Isken was the first power plant in Turkey to be built and operated by the private sector and relies on imported coal – primarily from Colombia.
Speaking at the recent Coaltrans World Coal Leaders Network in Lisbon, Portugal, Dr Uyanik emphasised the Turkish government's continued commitment to reducing the role of gas in its power mix with coal a key component of that. Gas – which is imported – comprised 38% of Turkey's energy mix in 2015, compared to 15% for imported coal and 13% for lignite and domestic coal.
It is domestic coal that is receiving most governmental support, however, as it is keen to avoid replacing dependence on imported gas with imported coal. This is a more difficult prospect, said Dr Uyanik, but "the incentive are there to develop. It seems it will take more time, more effort, but the incentives are there."
As a part of its support for domestic coal project, the government introduced a levy on imported coal in August 2016 initially at US$15 per tonne. This was revised to an index-based mechanism in October with the tax equaling US$70 per tonne minus ICE Rotterdam Future Index, which is linked to the API2 price.
Dr Uyanik saw limited impact from the levy, however, on investor appetite for import-coal-based projects, noting that the long-term coal price relative to the electricity price would be more important. If electricity prices remained high enough to support import-based power plants, they would be build, said Dr Uyanik, as these plants are all merchant plants, selling into the electricity market.
But how many plants? There are currently 7455 MW of power capacity fired by imported coal located in the northwest and south of the country. An additional 17 975 MW are either licensed or under application – but Dr Uyanik was skeptical about how much of this planned capacity would be built, calling most of its "fantasy".
According to Dr Uyanik, installed import-coal fired capacity would rise from 7455 MW in 2016 to around 11 900 MW in 2026. Consumption of imported coal would rise from 17.6 million t to around 24 million t on the back of this.
Read the article online at: https://www.worldcoal.com/coal/27102016/turkish-coal-import-demand-will-grow-to-2026/
You might also like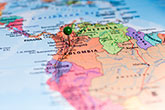 Benjamin Hill has entered into a nonbinding letter of intent with Aion to acquire interest in a Colombia coal project.