---
Clean coal represents a "future wave" growth opportunity, according to a new report from Deloitte Australia, while mining will continue to be a significant source of economic growth.
Catching the next wave: clean coal in Australia
The report – Positioning for Prosperity? Catching the next wave – highlights 25 sectors that offer the potential to drive the Australian economy forward into the future. These include mining, a fantastic five of next growth waves (gas, tourism, agribusiness, international education and wealth management) and a further 19 future wave growth areas, such as clean coal.
VIDEO Positioning for Prosperity: Introduction
"Australia has huge coal reserves and according to the International Energy Agency's world energy outlook for 2013, by 2035, fossil fuels will still represent around 75% of the global energy mix, compared to the approximately 82% today," Deloitte national mining leader east coast, Reuben Saayman, said. "But the world's desire for clean air will throw a curveball into our ability to earn as much in the future from the likes of thermal coal as we have in recent years."
"The 250 million t of thermal coal that Australia will export to earn that $20 billion a year – double what it was ahead of the global financial crisis – plays a key role in powering the world's electricity generators," Saayman continued. "But it is role is under threat. Global gas reserves – including Australia's – are one cleaner alternative."
Clean coal key to securing Australia's coal exports
"Driving down the cost of the technologies and processes involved in burning coal more cleanly has the potential to re-invigorate growth prospects for coal exports and deliver another future wave economic opportunity."
VIDEO Positioning for Prosperity: Mining
And while Saayman acknowledged there were major economic and technical challenges to clean coal, "the future payoff to Australia from a reinvigoration of prospects for our vast thermal coal reserves would be massive."
"That alone ensures coal retains the potential to be a standout growth sector – and that Australian businesses should therefore be closely monitoring developments in clean coal technologies and costs."
Adapted from press release by Jonathan Rowland
Read the article online at: https://www.worldcoal.com/coal/24032014/deloitte_clean_coal_needed_to_secure_australian_thermal_coal_exports_coal645/
You might also like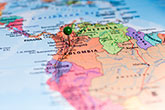 Benjamin Hill has entered into a nonbinding letter of intent with Aion to acquire interest in a Colombia coal project.