---
Northern Ireland-based LCC Group and Belfast Harbour have invested a combined £30 million in putting the city at the centre of the global supply chain for high-tech coal.
According to Belfast Harbour, since opening last year, LCC's £12 million facility has handled almost 500 000 t of processed coal which is exported directly across the world to destinations such as Saudi Arabia, Australia, Scandinavia, mainland Europe and North Africa.
LCC's facility has been improved in recent years by a further c. £20 million investment by Belfast Harbour to enhance its deep water and cranage capability.
The LCC facility removes impurities from coal which enables it to be used to produce ferro alloy and silica metals which are used in the manufacture of high-end products such as solar panels and medical equipment.
LCC imports coal to Belfast from Columbia for processing before onward export.
Over 130 direct and indirect jobs are supported by the operation including engineers, lab technicians and port support services.
Michael Loughran, Director of LCC Group, commented: "This £12 million investment means that LCC operates one of the most environmentally friendly, state-of-the-art coal processing facilities to be found anywhere in the world. In addition to creating 30 new jobs and up to 100 indirect jobs in supporting sectors, the facility has put Belfast at the heart of the global high-tech coal industry.
"Working in partnership with Belfast Harbour and building upon its investments in port infrastructure, LCC is now to the fore of the emerging clean-tech coal sector. The facility is designed to meet the most stringent 21stcentury environmental standards, and uses the most up-to-date technology to combat potential air and water pollution."
Belfast Harbour's Commercial Director, Michael Robinson, added: "In recent years, Belfast Harbour has invested around £20 million in a new deep-water quay and new larger cranes to enhance its bulk cargo operations in anticipation of our customers' future needs. This has enabled the Port to handle ever larger vessels and accommodate LCC's new facility beside its main bulk handling quay at Stormont Wharf."
"Belfast Harbour is now handling direct export shipments to Saudi Arabia for the first time in its history and recently exported bulk cargo to Australia for the first time in living memory. This new trade is also supporting jobs across a wide range of port services including stevedores and hauliers."
Read the article online at: https://www.worldcoal.com/coal/23032018/belfast-to-become-the-heart-of-high-tech-coal-industry/
You might also like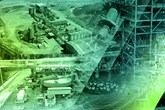 DRA Global has secured the contract for a major design package for Whitehaven Coal's Vickery Extension Project located in New South Wales, Australia.