A week in coal: 23 January
---
The World Coal news team rounds up the headline stories that broke in the global coal industry this week.
Tower of power
Viewed for years as a hazardous gas requiring removal from underground mines, coal mine methane (CMM) has become a viable fuel source for generating electricity at the Appin and Tower coal mines in New South Wales, Australia. The Appin and Tower sites constitute what is arguably one of the largest coalbed methane (CBM; also known as coal seam gas) energy projects in the world – and one of the world's largest reciprocating engine-generator installations of any kind. Consuming 600,000 m3/d of CBM (supplemented when necessary by natural gas), the generating equipment delivers a combined 97 MW of continuous capacity to the local utility grid. This week, we reported how 94 Caterpillar G3516 natural-gas-fired generator sets help convert the CBM into abundant and low-cost energy, which helps power the Appin and Tower coal mines.
The State of the Union
Barack Obama has laid out his State of the Union Address, in which he promised action on inequality in the same week that it was announced that, by 2016, the richest 1% would own as much wealth as the remaining 99% of the global population. Obama's speech was criticised by a number of coal industry bodies, however, as Peabody Energy and the National Mining Association (NMA) both claimed policies that "attacked" the coal industry would hit poorest Americans hardest. Hal Quinn of the NMA said American families would not be helped by policies that "continue to raise household utility bills and wrap key industries in red tape." Meanwhile, Peabody Energy's Greg Boyce – not one to miss an opportunity to preach of the values found in coal – said it was "unacceptable that we as a nation would allow growing pain at the plug to replace the pain at the pump," and stressed the need to invest in "clean" coal technologies, such as carbon capture and storage. The state of the union, therefore? So far, so divided.
Meanwhile, in Davos…
The eyes of the business world have turned to Davos, Switzerland, this week for the 2015 World Economic Forum (WEF). Unfortunate statistics indicate that CEOs (and Bono) attending the forum had no interest in climate change and global warming. Despite this, it was at the Davos Summit that Chinese Premier Li Keqiang has pledged China will reduce its use of coal and fossil fuels, while also promoting clean coal technologies. Chinese state media channel, Xinhua, said Li's words marked "the latest efforts of the world's most populous country in its uphill battle against air pollution and climate change". Li's sentiments were echoed by Microsoft founder, Bill Gates, who said that the long-term threat of climate change is "so serious that the world needs to move much more aggressively – right now – to develop energy sources that are cheaper, can deliver on demand, and emit zero carbon dioxide." We'll just get right on that then, Bill.
Moving in for the kill?
Rumour has it that South32 – the company formed from BHP Billiton's unwanted silver, manganese, aluminium and coal assets (not the name of some new boy band, as some have opined) – could be a potential takeover target for Swiss commodities behemoth, Glencore, as it seeks to expand its mining empire. Mining analysts think South32 could be a good fir with Glencore's existing business, as the Swiss giant is already dominant in all of the core commodities that the new company will produce. If such a takeover does take place, the time must be soon, before the market recovers and the value of South32 rises.
Winter has come
Game of Thrones fans are accustomed to hearing the phrase 'winter is coming', yet when it arrives the cold season has the propensity to catch people – and power utilities – off guard. Despite winter being a fairly regular occurrence – once a year for about three months is the going standard – it still has the propensity to cause alarm, as broadcasters and media outlets tell us to prepare for snow chaos and weather bombs. Nonetheless, when it grows cold – as it tends to do this time of year – the importance of keeping the power on cannot be underestimated. Last year's polar vortex demonstrated that, without adequate power, people would be unable to perform the new found ritual of throwing boiling water into the air to watch it turn to ice. With this in mind, therefore, it is comforting to hear that the North American Electric Corp. (NERC) has released its 2014-15 Winter Reliability Assessment, which finds that all assessment areas have enough capacity resources to meet normal winter peak demand. Phew. Get those kettles boiling: it's time to make some ice!
Written by Sam Dodson
Read the article online at: https://www.worldcoal.com/coal/23012015/a-week-in-coal-23-january-1788/
You might also like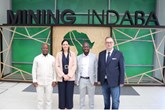 Continuing a spate of new global enrolments, the World Coal Association (WCA) has welcomed South African mining investor, Menar, to its roster of progressive coal members.