---
AIM Exploration Inc. is positioning itself for initial anthracite production and adds an anthracite industry marketing division. The company has appointed Bill Mullins to its advisory board. Mullins has been involved with the Peruvian mining project for over 10 years. He and AIM President, Bob Todhunter, have both been involved with Percana Mining Corp., the former owners of the mining concessions in Peru.
He has been involved with the Peru project for over ten years and it is intended that he will oversee the mining operations in Peru. Mullins' team will be responsible for carrying out all the logistics in Peru, working closely with Todhunter. AIM understands the importance of handling all the logistics in Peru and that marketing the anthracite coal is key to the success of the company.
Since AIM received the LOI from Prina Energy in India, Todhunter has maintained very close contact with the principals of Prina. According to the company, a strong marketing arm would be very beneficial to the company as India is well positioned to be the second largest steel producing country in the world. AIM will continue to work very closely with the principals of Prina and will be jointly working in India and worldwide in their joint efforts to ensure AIM is well-positioned to meet the ever increasing demands of high quality anthracite.
Anthracite being the highest-ranking coal is a highly desired resource with a variety of applications. It is used primarily in the manufacturing of steel, cement production and electricity generation.
While prices are yet to be specified in the LOI, the anticipated purchase price is expected to be in the neighbourhood of US$100 MT FOB Port of Salaverry with the projected cost of approximately USD $65 MT. If this pricing and cost holds true, AIM is well positioned to generate a good profit margin based on an LOI of 500 000 MT per year for a 5 year period.
Bob Todhunter is very excited to market this valuable and highly sought after mineral on a worldwide scale. He stated: "Aim Exploration strongly believes that adding a marketing component for anthracite coal will add tremendous upside potential to the company because Anthracite is a valuable and highly sought after mineral on a worldwide scale, and coupled with a strong logistics and operational arm in Peru AIM is well-positioned to move forward."
Edited from press release by Harleigh Hobbs
Read the article online at: https://www.worldcoal.com/coal/22062016/aim-getting-ready-for-initial-anthracite-production-1006/
You might also like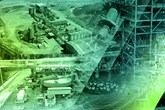 DRA Global has secured the contract for a major design package for Whitehaven Coal's Vickery Extension Project located in New South Wales, Australia.