---
New Hope Corp's oil and gas business continued to weight heavily on the company's results. The company recorded a AUS$15.988 million loss in its oil and gas business on an AUS$10.52 million writedown fn its oil producing and exploration assets.
Overall, the company recorded a profit of AUS2.723 million for the six months ending 31 January 2016 compared to a loss of AUS$23.139 million over the same period in 2015 when its oil and gas losses had been significantly higher at AUS$41.079 million.
Since the oil price decline began in Sep/Oct 2014, the oil price has dropped from circa AUS$110/bbl to AUS$51/bbl in January 2016, an overall drop of 54% in Australian dollar terms," the company said, more than offsetting the increase in production at its Bridgeport Energy subsidiary.
Excluding non-regular items, the company made a pre-tax profit of AUS$20.2 million on earnings of AUS$49.2 million with net cash generation of AUS$33.6 million.
New Hope's coal mining operations produced s.53 million t of coal over the six month period, 11.9% lower that the previous year on the back of bad weather at both its Jeebropilly and Acland sites, as well as changing geological conditions at Acland.
Coal production is expected to jump significantly in the second six month of the financial year on the inclusion of output from the company's newly-acquired stake in the Bengalla mine.
"Market conditions for Australian coal producers are challenging at present," said New Hope's Managing Director, Shane Stephen. "However, New Hope has efficient operations and is in a robust financial position, so we are well placed to see out the current downturn and take advantage of these conditions to grow the business in the future."
Looking forward, the company said that it was seeing signs that Asian seaborne thermal coal markets were stabilising with demand for high-quality Australian thermal coal remaining firm from traditional importers such as Japan, South Korea and Taiwan.
However, it noted that there remained "no consensus regarding the future direction of thermal coal prices with a great divergence of views".
Edited by Jonathan Rowland.
Read the article online at: https://www.worldcoal.com/coal/22032016/oil-and-gas-drags-down-new-hopes-results-2016-443/
You might also like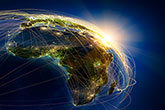 Contango Holdings Plc has advised that the production of washed coking coal has commenced at its flagship Lubu Coking Coal Project in Zimbabwe.